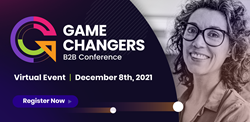 This year's Game Changers conference will address what it takes to embrace this change, build resilience, and transform your organization in today's new era of buyer-driven, omnichannel Precision Demand Marketing. - Jeremy Bloom, CEO of Integrate
PHOENIX (PRWEB) November 17, 2021
Integrate, the leader in B2B Precision Demand Marketing (PDM), today announced the lineup of speakers for the annual Game Changers 2021 Conference on December 8, 2021 in the U.S. and December 9, 2021 in the U.K. Keynotes include Apolo Ohno, 8-time Olympic medalist for short track speed skating and New York Times Best Selling author, Matt Heinz, President of Heinz Marketing, Craig Rosenberg, co-founder of TOPO and now Distinguished VP, Analyst at Gartner, and Dr. Jacinta Jimenez, award-winning psychologist and board-certified leadership coach, and author of The Burnout Fix: Overcome Overwhelm, Beat Busy, and Sustain Success in the New World of Work.
Integrate and Heinz Marketing recently conducted a survey that found that 60% of B2B marketers are not entirely confident that their current marketing strategy, technology, and team structure effectively supports their marketing goals. This number jumps to 87% for ABM teams and 73% for revenue marketing teams, suggesting that today's B2B marketers need to rethink their approach.
"B2B marketers are embarking on a new world that requires a more connected, flexible and agile mindset," said Jeremy Bloom, co-founder and CEO of Integrate. "This year's Game Changers conference will address what it takes to embrace this change, build resilience, and transform your organization in today's new era of buyer-driven, omnichannel Precision Demand Marketing."
The Game Changers 2021 conference will feature B2B marketing leaders Cassandra Clark, Head of Global Growth Marketing at LinkedIn Sales Solutions, Jess Weimer SVP, Revenue Marketing at Podium, and Leslie Alore, Global VP, Growth Marketing at Ivanti. They will discuss their real-world challenges and how they are redefining their team structures, processes, and go-to-market approaches with Precision Demand Marketing.
Integrate's leadership team, including CEO, Jeremy Bloom; CMO, Deb Wolf; Chief Product Officer, Aaron Mahimainathan; VP of Product Marketing, Colby Cavanaugh; Director of Product Marketitng, Jennifer Goode; and VP, Solutions Consulting, Justin Eisner, will also speak at the conference.
This year's conference is sponsored by LinkedIn. To register for the conference and view more information on the agenda, sessions, and speakers, visit the Game Changers 2021 website at https://events.b2bgamechangers.com/ and follow #b2bgamechangers on social media.
About Integrate
Integrate is the leader in Precision Demand Marketing, an emerging category to help B2B marketers develop and deliver an omnichannel demand strategy, convert customer and prospect data records to revenue, and drive marketing ROI. Integrate works with high-growth and enterprise organizations like Salesforce, Microsoft, Akamai, and Pluralsight to power their Precision Demand Marketing strategies. Over the past decade, Integrate has evolved from solving the complex challenges across each demand generation channel to powering account-based, buyer-driven omnichannel experiences. Today, Integrate's Demand Acceleration Platform helps marketers orchestrate connected buying experiences that drive qualified conversations at scale, simplify ABM management, and accelerate revenue generation. For more information, please visit http://www.integrate.com or follow us on LinkedIn, Facebook and Twitter.