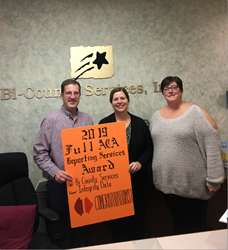 "The products and services Integrity Data provides to organizations like ours, allow us to affordably and efficiently run our internal processes so we can spend the bulk of our time serving others."
LINCOLN, Ill. (PRWEB) December 03, 2018
Integrity Data, a leader in technology and services to simplify Affordable Care Act (ACA) tracking, reporting and compliance, is pleased to announce that Bi-County Services in Bluffton, Indiana is the winner of their 2019 Full ACA Reporting Services Award. In addition to supporting businesses with ACA compliance, Integrity Data is a leading developer of Microsoft Dynamics GP Payroll and HR solutions and offers a suite of financial wellness programs for employers.
This award is the latest initiative in Integrity Data's embracing of philanthropy as one if its core values. The company actively supports numerous community programs and provides matching donations and volunteer time off to encourage employees to get involved.
Bi-County Services provides services to individuals with intellectual disabilities in a home and community setting. They also offer day services which include job readiness, sheltered workshop, and educational opportunities. Recognizing that all people have dignity and worth, it is their mission to work with their staff and community members to enable individuals with disabilities to make choices and live, learn and participate meaningfully in their community.
Of the many wonderful nonprofits that applied, Bi-County Services ultimately won the award after an in depth interview and, in the final round, an Integrity Data employee vote. Heather Baumgartner, HR & Payroll Associate at Bi-County Services and an existing Integrity Data customer (using their Leave Management solution), applied for the award based on need and Integrity Data's reputation. When meeting with Marleen De Winter, Integrity Data's Marketing Director this past Giving Tuesday, she said: "The products and services Integrity Data provides to organizations like ours, allow us to affordably and efficiently run our internal processes so we can spend the bulk of our time serving others." Marleen was thrilled to be given a tour of the facilities: an adapted gym, a workplace where they were folding sleeves that are sold in vending machines, classrooms for job readiness and even a relaxation room with soothing music and calming colors. All this with happy people all around loudly saying hi! She was really moved when seeing what they all do for their 200-250 consumers (recipients of their services) and Heather describing her working there as her vocation.
"ACA has been such a challenge for businesses across the U.S. and nonprofits have the added challenge of limited resources and budgets. This is something our team wanted to do to show our deep appreciation for the nonprofit community and pay it forward," said Patrick Doolin, CEO of Integrity Data. "We have been immersed in ACA since its inception and are honored to share our experience and solutions to help lighten the burden for a nonprofit."
Bi-County Services will receive:

Monthly variable hour tracking to determine which employees are eligible for health insurance
Year-end reporting for the IRS (Forms 1095-C and 1094-C), including e-filing the 1094-C, for 2019
Experienced advisory and support from Integrity Data ACA specialists
To learn more, visit http://www.integrity-data.com or call Integrity Data at 888-786-6162.