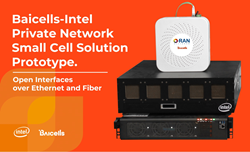 SANTA CLARA, Calif. (PRWEB) February 27, 2020
As 5G networks continue to see expansion globally, one of the more exciting applications that is seeing near-term development is smart manufacturing or what is commonly referred to as Industry 4.0. By some estimates, the Industry 4.0 market is expected to grow to $3.7 trillion globally and represents an enormous opportunity for manufacturers to evolve their businesses to take advantage of the performance, efficiency, and new capabilities provided by 5G.
For Industry 4.0, these capabilities include Ultra-Reliable, Low-Latency Communications (URLLC) features to serve the many industrial applications that operate at sub-1ms intervals. In addition, OpenRAN architectures, similar to those outlined by the O-RAN Alliance, as well as the ability to leverage dedicated spectrum, are anticipated to give rise to extensive use of private 5G networks by industrial markets. That is why Intel and Baicells, a global leader in 5G small cell technology with more than 600 deployments around the world, have teamed up to showcase a 5G prototype solution that meets these specific requirements.
3GPP Release 16 URLLC enables a set of features designed to support mission-critical applications, such as those found in Industry 4.0. Working together, Intel and Baicells are highlighting a joint OpenRAN 5G IoT system targeting URLLC performance with a compact design. These attributes allow for high performance and easy integration into existing deployments.
OpenRAN architectures utilizing small cells are one deployment scenario that can be particularly well-suited for the private 5G networks that many companies are evaluating as part of their transition to Industry 4.0. This is because open systems provide a broad range of options for vendors and operators to tailor solutions that best meet individual customer needs. Additionally, maintaining a private network with an open platform is significantly less complex compared to traditional models.
It is expected that demand for these sorts of deployments will continue to grow. In fact, industry analyst firm Mobile Experts expects the small cell market to continue growing at a 10% CAGR over the next five years and to reach $5.2 billion by 2024. When used in conjunction with private network deployments and OpenRAN, small cell configurations that use concepts such as those shown by Intel and Baicells can provide myriad benefits for manufacturers, including:

Enabling Industrial Internet of Things (IIoT) applications such as machine vision, video surveillance, augmented reality and industrial automation
Significantly reducing cost and resource allocations for cabling deployments
Enhancing data sovereignty and privacy via private networks for manufacturers
Increased flexibility in factory floor configuration
Enabling the application of predictive maintenance and "just in time" serving and replacement of existing systems
Improved reliability and resilience of factory operations
Significant increases in efficiency of supply-chain and inventory
Remote management of robotics and autonomous fleets in industrial settings
Intel and Baicells' joint solution is well-suited for IIoT, to deliver sub-1ms latency meeting URLLC requirements critical for Industry 4.0 applications. Deployments based on this solution can provide secure, dedicated communications via a wireless "express lane" for private networks between machines on the factory floor. What's more, this system provides open standardized interfaces compliant with the O-RAN Alliance so that it will easily integrate into existing infrastructure.
As manufacturers continue to apply new techniques and technologies in order to compete more effectively in the era of 5G, IIoT and Industry 4.0, open solutions such as those shown in Intel and Baicell's joint OpenRAN 5G IoT system will be critical to their success.