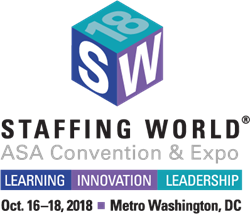 WASHINGTON (PRWEB) October 26, 2018
Last year, the largest staffing expo in the nation presented it's first annual "Tech Park" presentation series in the outdoor mall of the Staffing World floor space.
The Staffing World Tech Park is a result of ASA member surveys and the association's strategic plan, which includes technology as a major part of best serving members and the industry.
Authorities on cutting edge software, like employment screening software house Intelifi, were asked to submit video proposals for a chance at presenting at the expo. October 18th at 1pm, Intelifi presents "Compliance Technology in Background Check Software". Sales director Pat Hartounian will be speaking during the staged presentation as an expert on Intelifi's Engage software compliance features.
At booth #332 the remainder of the Intelifi team will be taking scheduled demo appointments for personal 1:1 review of the features, services and package options. Scheduled demo attendees will have a chance at winning free gift cards up to $100 in value by spinning a fortune wheel at the booth.
For every minute committed to a demo with Staffing World attendees, Intelifi also pledges to donate 1lb of food to organizations responsible for feeding children in deserving countries all over the world. At the attendees request, Intelifi will provide a certificate of donation to the staffing agency or recruiter company that made the donation possible.
Intelifi takes pride in its new charitable goals and offering FCRA compliance training and educating the staffing industry and its members on the laws pertaining to background checks.