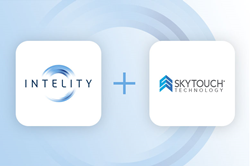 "The integration between SkyTouch and INTELITY is a big step for the industry. Hoteliers can now utilize both platforms simultaneously and completely modernize the way they manage their properties."
LOS ANGELES (PRWEB) March 28, 2019
INTELITY™, the provider of the travel industry's broadest enterprise guest engagement and staff management platform, announced today that they have teamed up with SkyTouch, the most widely used cloud-based hotel property management system (PMS). The integration will allow properties to use the INTELITY and SkyTouch technologies in tandem through the SkyTouch /CONNECT integration platform.
SkyTouch is known for its innovative cloud-based property management system (PMS) that is accessible via mobile devices and is capable of managing properties of all sizes. The cloud-to-cloud integration between the SkyTouch PMS and the INTELITY platform gives staff access to a comprehensive set of management tools that work in combination to provide an exceptional guest experience.
SkyTouch CEO, Todd Davis, said, "Integrating with INTELITY using the SkyTouch /CONNECT technology will provide our customers' staff with a simple and seamless management solution that elevates guest experience."
The INTELITY Staff back office platform seamlessly connects to the SkyTouch PMS providing staff with updates to guest information and reservation status, as well as real-time updates regarding check-in/out and room changes. INTELITY Staff also features a comprehensive ticketing system that allows operations teams to better organize and manage daily tasks, work orders, and service recovery. Because both platforms are available through a multitude of devices, including mobile, management and operations teams on property can be completely mobile and while still tracking and managing all staff and guest activities.
"It's important that hoteliers are able to incorporate the technology platforms of their choice at their properties and that those platforms work and complement each other," said INTELITY President & COO David Adelson. "The integration between SkyTouch and INTELITY is a big step for the industry. Hoteliers can now utilize both platforms simultaneously and completely modernize the way they manage their properties."
For more on the INTELITY and SkyTouch integration, please visit https://intelity.com/skytouch/.
About INTELITY
INTELITY is the global provider of the most advanced hospitality technology platform for the hotel, casino, cruise, and luxury residential markets. INTELITY offers its customers comprehensive end-to-end solutions to manage guest experience and staff operations, in a single platform. In 2018, INTELITY merged with KEYPR yielding a combined 15 years of hospitality experience, rapid growth, and the most complete hospitality technology platform on the market. For more information, please visit http://www.intelity.com.
About SkyTouch Technology
SkyTouch Technology is the provider of a widely used cloud-based property management system. Built in the cloud by hotel professionals for hotel companies, the SkyTouch hotel operations platform is designed to help hotel executives meet their most important strategic objectives: to enhance the guest experience, advance performance, and achieve growth while evolving with changing market needs. Accessible from anywhere, the SkyTouch PMS provides visibility and control of operations through real-time, impactful business analytics that help improve hotel guest experience, operational decision-making, and financial results for today's hotelier. SkyTouch provides an integrated approach to online hotel reservations that fits any size property. For more information about SkyTouch Technology, visit http://www.skytouchtechnology.com.
SkyTouch, SkyTouch Technology, and SkyTouch Hotel OS are proprietary trademarks and service marks of SkyTouch Solutions, LLC.