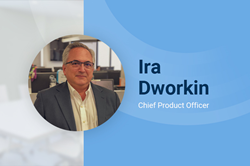 Dworkin will lead INTELITY's global product, data intelligence, hardware engineering, program management, and quality assurance teams.
LOS ANGELES (PRWEB) July 18, 2019
INTELITY®, the provider of the broadest enterprise guest engagement and staff management platform for hospitality, announced today seasoned technology and product executive, Ira Dworkin, has joined the company's management team as Chief Product Officer (CPO). As CPO, Dworkin will oversee INTELITY's product roadmap and growth strategies to continue to provide the hospitality industry with the most robust platform available. Dworkin will lead INTELITY's global product, data intelligence, hardware engineering, program management, and quality assurance teams.
"With his rich experience in driving innovative product and technology offerings, Ira will be a cornerstone for the INTELITY team, and will help guide our product roadmap to ensure we are meeting the demands of our customers and the market," said Robert Stevenson, INTELITY CEO. "As we look to continue expanding into the international arena, Ira will play an integral role in driving our platform and products."
Dworkin brings over 20 years of product and technical experience across start-up, high growth, and established companies. His experience includes leading the creation and launch of inventive consumer services as well as enterprise-grade technology solutions for both entertainment and hospitality-focused companies. Most recently, Dworkin served as the EVP of Product and Technology at VUBIQUITY, where he led all product and technology functions on a global scale. Prior to VUBIQUITY, he held senior leadership positions at DIRECTV and Echostar.
"It's an exciting time to be joining the INTELITY team and I'm thrilled to be a part of a company with such rapid growth," said Dworkin. "No other company in the market offers as complete a platform offering and I look forward to helping introduce new products and services that will further extend our position as the leader in guest experience technology."
INTELITY will be attending NoVacancy Hotel + Hospitality Business Expo in Sydney, Australia from July 24-25. Stop by Booth #410 or email demos(at)intelity(dot)com to experience the INTELITY platform first hand.
About INTELITY
INTELITY is the global provider of the most advanced hospitality technology platform for the hotel, casino, cruise, and luxury residential markets. INTELITY offers its customers comprehensive, fully integrated solutions to better connect and manage guest experience and staff operations, in a single platform. INTELITY has been named the "Official Mobile and In-Room Technology Provider" by Forbes Travel Guide in 2017, 2018, and 2019, and is used by major hotel groups, including Marriott's Autograph Collection, YOTEL, Proper Hospitality, Frasers Hospitality, Fairmont, and more. For more information or to view current job openings, please visit http://www.intelity.com.