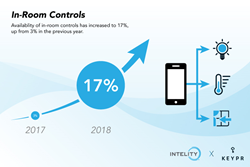 Over 40% of those surveyed want to do one or more of the following: use their smartphones and tablets to manage reservations, control the guest room environment, check in/out, request services, order room service, unlock their rooms, and more.
LOS ANGELES (PRWEB) August 23, 2018
According to Hospitality Technology's 2018 Customer Engagement Technology Study, hotels are slow to adopt the mobile functionality guests want. Over 40% of those surveyed want to do one or more of the following: use their smartphones and tablets to manage reservations, control the guest room environment, check in/out, request services, order room service, unlock their rooms, and more. However, fewer than half of all hotels currently offer a majority of these mobile features. According to the study, of the 24 mobile features guests want, only 3 are widely available (room reservations, loyalty program management and on-property events).
The good news for hoteliers is that soon-to-be combined companies Intelity X KEYPR can equip properties with up to 75% of the mobile functions guests want today, and even more will be available in the future.
"Since Intelity's inception back in 2008, I have been amazed to witness firsthand the development in the hospitality technology space. Technology is truly disrupting the industry and mobile applications in particular are redefining how services are delivered," said David Adelson, Intelity President and CEO.
The study released last week shows that hotels are realizing the importance of adding mobile technology to all areas that touch the guest. Further findings revealed significant increases since 2017 in enablement of mobile check-in/out and room controls. The ability to bypass the front desk by activating a mobile key went up from 16% in 2017 to 35% today.
Merger = More
Upon completion of its merger with KEYPR, Intelity will offer the broadest, most complete guest service and in-room technology platform available on mobile, tablet, TV, chat, voice, back-office, CMS, mobile key, and more. The combined platform will provide hotels with 20 out of the 24 mobile functions that travelers said they want in the 2018 CETS, including:
1. Room reservations
2. Loyalty program management
3. Calendar of events
4. Mobile check-in/out (with enhanced PMS integration)
5. Search for hotels with location-based technology
6. View property maps
7. Take a consumer satisfaction survey
8. Integration of mobile device and in-room TV
9. Mobile room key
10. Read/post reviews
11. Request service
12. Order room service (with enhanced POS integration)
13. Retrieve bill (with enhanced PMS integration)
14. Ability to change and manage reservation
15. Purchase services
16. Receive/redeem coupons
17. Schedule wake-up calls
18. Control guest room
19. Access social media
20. Ability to order/request services w/ voice control
Demand for smart technology continues to grow. The capability to control guestroom TVs from mobile phones is up 22% over last year, and the ability to purchase hotel services such as spa, golf, etc. is up 22% as well; using a smartphone as a guest room key and ordering room service via a mobile device are both increased this year to 19%; and scheduling wake-up calls via mobile rose to 16%.
"In the last year, hotels have made strides toward meeting guests' mobile demands," said KEYPR CEO Robert Stevenson. "This is good news, but as an industry we can do better. To deliver the most mobile services in ways guests are expecting takes choice, speed, convenience, empowerment, and ultimately value. It takes the Intelity X KEYPR platform."
About Intelity
Intelity, headquartered in Orlando, Florida, is the creator of the world's first and most widely used integrated guest services platform, ICE (Interactive Customer Experience™). With certified integrations to all major hotel back-end management systems (POS, PMS, Ticketing, Spa and Room Controls), Intelity's ICE is a centralized property-automation system that delivers concierge-level services, guest request tracking and fulfillment, business-intelligence analytics, marketing/messaging capabilities, and a full content management system. Since beginning operations in 2007, the Inc. 5000 company has gained a reputation as a leader in hospitality technology with installations across six continents, including most major brands and many celebrated independent properties. Intelity recently received designation as the "Official Mobile and In-room Technology Provider" of the Forbes Travel Guide. For more information, please call 1-888-738-7271 or visit http://www.intelitycorp.com.
About KEYPR
KEYPR® is the broadest cloud-based guest experience and management platform for hotels, casinos and luxury residences. The platform delivers a personalized, friction-free guest experience, while creating new operational efficiencies and driving additional revenue opportunities for property owners and operators. Guests can access a directory of services, including dining, entertainment, third-party content and more through an in-room tablet and custom mobile app. The app also allows guests to bypass the front desk via KEYPR's digital key. Additionally, owners and managers gain valuable insight through the integrated dashboard (GEMS®) and intuitive tools that provide visibility into guest needs before, during and after their stay -- all while easily monitoring operational KPIs across multiple properties. For further information, visit http://www.keypr.com.