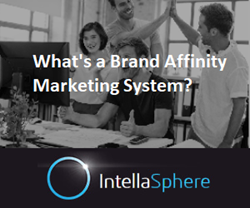 We're the missing link between consumers who express brand affinity and businesses, so both can benefit directly.
BELLEVUE, Wash. (PRWEB) January 24, 2019
Today IntellaSphere is unveiling their new all-in-one Brand Affinity Marketing System as a practical and affordable solution for organizations seeking to grow their digital fans, prospects and customers far more efficiently — and turn them into active brand influencers and promoters.
"We recognize that every business is a brand, every person is a brand influencer and that brand affinity drives demand. Our goal is to serve as the missing link between consumers who express their affinity and businesses, so both can benefit directly," explained Bruce Worrall, CEO of IntellaSphere.
Through the Brand Affinity Marketing System, businesses of any size can tap into their prospects and customers who, in turn, grow more attached to the brand. Businesses are able to invite their supporters to become brand promoters, who then receive opportunities to share within their own social circles. All marketing communications are managed by the businesses.
System users may communicate with prospects, leads, customers and influencers using any social, web or email channel. The service is designed for non-experts and end users who want to create, distribute and track campaigns, offers, events, surveys, newsletters or other marketing activities.
IntellaSphere helps businesses frustrated by the time required to work though numerous marketing channels, as well as the cost of "pay to play" ad models with Facebook and Google. According to Worrall, "we keep listening to the complaints of businesses and non-profits, and have responded with a solution to meet these holy grail challenges of cost-effective digital marketing."
The IntellaSphere Brand Affinity Marketing System is available online at IntellaSphere.com, and may be trialed without any credit card. After 30 days, the newly-launched service costs $49/month. Any business or organization is invited to try the "digital marketing system for the rest of us."
About IntellaSphere: IntellaSphere helps businesses market more effectively using a socially collaborative approach. Our Brand Affinity Marketing System builds brand awareness and recognition with your prospects and strengthens brand loyalty with your customers. It's an all-in-one service that's simple, affordable and effective.