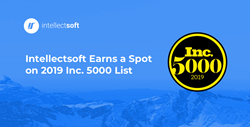 PALO ALTO, Calif. (PRWEB) August 16, 2019
Intellectsoft has made another big leap in the Inc. 5000, one of the most prominent annual ratings of the fastest-growing private companies in the US. In the recently updated list, Intellectsoft showed a 563% annual revenue growth over the last three years, getting closer to to the Inc. 500 club.
For nearly 30 years, the Inc. Magazine list has been capturing the exciting evolution of the fastest-growing companies in North America. Inc's past honorees have become world-class brands that include Microsoft, LinkedIn, Dell, and Domino's Pizza. The companies on this year's list amassed 237.7 billion in revenue in 2018, accounting for 1,216,308 jobs over the past three years, and with astounding three-year average growth of 454%.
Intellectsoft keeps growing quickly and confidently as well. Last year was especially fruitful for us and our clients. We expanded cooperation with major existing partners in the U.S., Europe, and Asia to new technology areas, and added new clients to our portfolio, including legal, healthcare, real estate, and finance companies. Our recent accomplishments include an IoT solution for one of the leading luxury hotel chains in Asia that helped it deliver an exceptional experience to their guests, a personal items tracking product for American consumer electronics company Adero, and a transformative solution converging multiple cutting-edge technologies for one of the biggest construction players in Europe's Nordic Region.
We also struck new ambitious partnerships in the fields of artificial intelligence and distributed ledger technology in 2018, and continue growing out technology stack to deliver cutting-edge solutions to our clients.
About Intellectsoft
Intellectsoft is a boutique digital transformation consultancy headquartered in Palo Alto, California. The Company provides cutting edge engineering solutions for global and Fortune 500 companies, with the mission to help enterprises accelerate adoption of new technologies, untangle complex issues that always emerge during digital evolution, and orchestrate ongoing innovation. Established in 2007, Intellectsoft operates across multiple offices with the engineering centers in the U.S., the U.K., the Nordic region, as well as Eastern Europe.
Intellectsoft maintains its advanced domain expertise through five dedicated labs: Cognitive Computing, Decentralized Applications (i.e. Blockchain), Internet of Things (IoT), Premier Customer Experience (CX), and Mixed Reality (AR, VR). Being recognized experts in cutting edge tech, several hundred of Intellectsoft's digital gurus engineer secure dynamic interactive intelligent solutions and seamlessly integrate them into existing IT infrastructure of clients. Whether it is a consumer-oriented app or a transformative enterprise-class solution, the company leads the process from ideation and concept to delivery, and provides ongoing support through its IS360 framework. The core operating belief is that any modern customer-centric organization starts its digital transformation with the customer journey in mind, no matter how ambitious it is, which is why highly personalized approach and superb user experience is Intellectsoft's dominant focus.
Intellectsoft has three distinct offerings: for tech startups, for small and medium size businesses, and for large enterprises — each customer cluster is unique in its needs, scale, budget, and legacy architecture. The company's services portfolio offers strategic IT consulting, CX design, development and full lifecycle management of custom products and applications, as well as system integration. Over the last ten years more than two hundred clients from financial services and insurance, retail and hospitality, construction and logistics, healthcare and telecommunications have leveraged the power of Intellectsoft's creative solutions.
More information can be found at intellectsoft.net
About Inc. Media
Founded in 1979 and acquired in 2005 by Mansueto Ventures, Inc. is the only major brand dedicated exclusively to owners and managers of growing private companies, with the aim to deliver real solutions for today's innovative company builders. Inc. took home the National Magazine Award for General Excellence in both 2014 and 2012. The total monthly audience reach for the brand has been growing significantly, from 2,000,000 in 2010 to more than 20,000,000 today. For more information, visit inc.com
The Inc. 5000 is a list of the fastest-growing private companies in the nation. Started in 1982, this prestigious list has become the hallmark of entrepreneurial success. The Inc. 5000 Conference & Awards Ceremony is an annual event that celebrates the remarkable achievements of these companies. The event also offers informative workshops, celebrated keynote speakers, and evening functions.