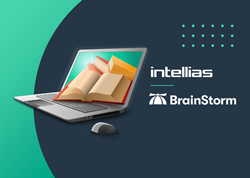 CHICAGO (PRWEB) February 10, 2023
Intellias, the world's technology partner known for its bespoke digitalization of enterprises and large-scale global initiatives, announced its recognition as a winner of IAOP's 2022 Excellence in Strategic Partnership Award today. The award was granted to Intellias and BrainStorm, Inc. for demonstrating excellence in their collaboration, innovation, and partnership outcomes.
Intellias began its work with BrainStorm in 2011 to create its QuickHelp platform — a cloud-based adoption and change management tool — from ideation to inception. When the company later experienced a rapid increase in demand for its solutions, BrainStorm leveraged Intellias to help navigate a market-driven challenge that had not previously existed.
Intellias led the complete, end-to-end engineering involved in scaling BrainStorm's QuickHelp platform. Intellias introduced and implemented new technologies and processes to BrainStorm's infrastructure, including cloud, big data, and DevOps. As a result, BrainStorm reduced its infrastructure costs by 20%. The QuickHelp platform now enables millions of active users worldwide to access thousands of training videos, track their growing expertise, access upskilling recommendations, personalize their libraries, share their own videos, and participate in online instructor-led training sessions.
"BrainStorm congratulates Intellias on this award. Strategic Partnership perfectly describes Intellias and the role they have provided for us. They have been an integral piece of our product team and their technical expertise has been crucial to our success," said Derek Adams, CTO at BrainStorm, Inc.
The Excellence in Strategic Partnership Award follows Intellias' recognition on IAOP's 2022 Global Outsourcing 100 list. This year marks Intellias' fifth year on the list.
"True collaboration is essential to any successful partnership. We see this every year in our Global Outsourcing 100 applicants contributing their success to strategic partnerships. For that, IAOP is thrilled to congratulate Intellias as a recipient of the 2022 Excellence in Strategic Partnerships Recognition," commented Debi Hamill, IAOP CEO.
The 2022 Global Outsourcing 100 recognizes the world's best outsourcing service providers and advisors. Judging is based on a rigorous scoring methodology that includes an independent review by an independent panel of IAOP customer members with extensive experience in selecting outsourcing service providers and advisors for their organizations.
"As the market changes, our clients' technology must change with it. We usually operate behind the scenes to quietly digitize companies' offerings or create new ones that never before existed. We're pleased to accept this recognition for our work with BrainStorm as they transcend the demands of their market and lead it," said Roman Slokhynyak, Key Account Executive at Intellias.
About Intellias
Intellias is a global technology partner to Fortune 500 enterprises and top-tier organizations, helping them accelerate their pace of sustainable digitalization. Intellias empowers businesses operating in Europe, the US, the Middle East, and the APAC region to embrace innovation at scale. With nearly two decades of experience, Intellias focuses on the sustained success of clients on their value journey. The company's client portfolio includes Roche, Orbach & Сhambers, PARC, HelloFresh, HERE Technologies, Anglo-Gulf Trade Bank, and Swissquote Bank.
About IAOP
IAOP is a global association that brings together customers, providers, and advisors in a collaborative, knowledge-based environment that promotes professional and organizational development, recognition, certification, and excellence to improve business service models and outcomes. Whether you are new to collaborative business models like outsourcing or you are an experienced professional, IAOP connects you and your organization to a growing global community and the resources you need to get the results your company deserves and demands.