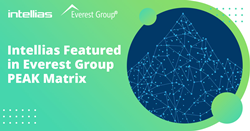 CHICAGO (PRWEB) February 06, 2023
Intellias, a global technology enabler of sustained success for top-tier organizations and Fortune 500 companies, was featured in Everest Group Software Product Engineering PEAK Matrix® 2022. For the second consecutive year, Everest Group recognizes Intellias for its product engineering capabilities and excellence.
This year's PEAK Matrix® is the fourth edition of Everest Group's flagship assessment. The research covers 33 companies, evaluating top software engineering vendors within the proprietary framework for demonstrating exceptionally high-quality services and specific market impact.
The study by Everest Group is a complex data-driven and analytics-based report that includes a thorough examination of selected service providers, their market impact, and client references. The summary dashboard of companies highlights their key strengths and limitations.
Everest Group recognized Intellias notable strengths in cloud-related projects, DevOps maturity, AI-powered solutions, and proprietary IoT accelerators. The company's 4-step E2E approach comprises focused validation, robust implementation, orchestrated launch, and intelligent decision-making. As a leading product engineering provider, Intellias combines its frameworks with proprietary practices like all-embracing solution blueprint and recognized industry practices like lean product development and design thinking.
"In 2023, the digital velocity is so high that even relatively modern trial-n-techniques like Agile do not work well anymore: your product may be discarded and become obsolete after being unable to reach the market after certain iterations. That situation requires software companies, specifically product management, to operate in "one shot – one hit" mode, giving nearly zero space for failure. That's why in the coming years, we will see more and more methodologies and techniques focused on designing products that reach the market quickly. Intellias'"Black box to glass box" technique is one of those: no more "black boxes" to the market, but a well-designed product narrowly focused on consumer needs," says Roman Pavlyuk, VP of Digital Strategy at Intellias.
When developing a new product, Intellias focuses on its vision, design, scalability potential, and engineering process. Intellias helps its partners and clients ace their product success strategies based on a data-driven approach to reinforce decision-making and pave the way for evidence-powered implementation.
About Intellias
Intellias is a global technology partner to Fortune 500 enterprises and top-tier organizations, helping them accelerate their pace of sustainable digitalization. Intellias empowers businesses operating in Europe and the US, as well as the Middle East to embrace innovation at scale. The company has been featured in the Global Outsourcing 100 list by IAOP, recognized by Inc. 5000, and acknowledged in Forbes and the GSA UK Awards. With two decades of experience, Intellias is geared towards ensuring the sustained success of clients on their value journey.
About Everest Group
Everest Group is a research firm focused on strategic IT, business services, engineering services, and sourcing. Our research also covers the technologies that power those processes and functions and the related talent trends and strategies. Our clients include leading global companies, service and technology providers, and investors. Clients use our services to guide their journeys to maximize operational and financial performance, transform experiences, and realize high-impact business outcomes.