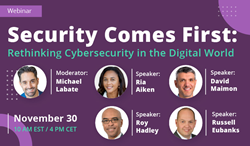 BERLIN (PRWEB) November 16, 2021
On November 30, 2021, Intellias, a technology partner of Fortune 500 enterprises and top-tier organizations, hosts a virtual event for executives titled "Security Comes First: Rethinking Cybersecurity in the Digital World" followed by a Q&A session with the speakers. Participants are invited to register on the LinkedIn event page to attend the insight-packed online session or access the record when the webinar is aired.
While providing cybersecurity advisory and consulting services, Intellias sees rising interest in information security solutions. The company gathers world-class professionals for the online discussion to raise awareness about the importance of increasing the organization's overall cybersecurity posture.
The virtual session will equip company founders, managing directors, and C-level or VP-level executives of mid-size or enterprise-level organizations with an understanding of how to address evolving information security risks associated with digital transformation. The experts will share first-hand insights into creating financial and reputational value by making cybersecurity a business priority. After the discussion moderated by Michael Labate, President of North America at Intellias, there will be a Q&A session with cross-industry cyber-security experts:

Ria Aiken, Director, Business Information Security Operations and Third-Party Risk Management, Federal Reserve Bank of Atlanta
David Maimon, Associate Professor, Department of Criminal Justice and Criminology at Georgia State University & Special Advisor at Vidocq Group
Roy Hadley, Business Lawyer and Trusted Advisor at Adams and Reese LLP
Russell Eubanks, Founder of Security Ever After
With experience in enabling revenue-generating business activities, Mr. Labate will facilitate the webinar flow to create a favorable space for insightful interaction.
About Intellias
Intellias is a digital transformation enabler and trusted technology partner of Fortune 500 enterprises and top-tier organizations. Over 2,000 Intellias experts in Ukraine, Poland, Germany, the US, and Saudi Arabia deliver services, including cybersecurity consulting and advisory, to businesses from various domains. Global brands trust Intellias to assess the security of their complex IT systems and design solutions for protecting valuable digital assets from cyberthreat. The company has been featured in the Global Outsourcing 100 list by IAOP, recognized by Inc. 5000, acknowledged in the GSA UK Awards, and named the winner of a Silver Stevie Award in the 17th Annual International Business Awards, and ranked the #1 employer among Ukrainian IT service providers by Forbes.