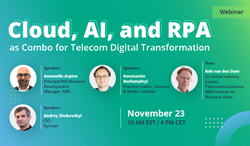 BERLIN (PRWEB) November 17, 2021
On November 23, Intellias, a global technology partner to Fortune 500 companies and top-tier organizations, will host a webinar titled "Cloud, AI, and RPA as Combo for Telecom Digital Transformation." The online session is prepared for telecom decision-makers, managing directors, and C-level or VP-level executives in mid-size or enterprise-level companies going through digital transformation. Participants are invited to register on the LinkedIn event page to attend the stream or access the record when the webinar is aired.
Intellias brings together world-class industry experts and thought leaders to communicate how progressive telecommunications companies can step towards digital transformation with the cloud, AI/ML, and RPA as the foundation for evolving in the dynamic business world. Antonello Arpino, Principal BSS Business Development Manager at Amazon Web Services (AWS), Konstantin Besfamylnyi, Business Director of Telecom and Media at Intellias, and Andriy Zhukovskyi, CIO at Kyivstar, will share their first-hand experience in the telecom cloud journey and transformation to data-centric operations. Rob van den Dam, Ex-Global Industry Leader of Telecommunications, Media & Entertainment at IBM Institute for Business Value, will facilitate the talk as the moderator.
The Intellias insight-packed 1-hour session would be best for CTOs, CIOs, CPOs, COOs, Senior Directors of IT Strategy/Corporate Business Strategy, Chief Architects, Chief Data Scientists, Senior VPs, General Managers, Managing Directors, Product Managers, Program Managers, Portfolio Managers.
To learn more and register for the webinar, please follow the event page on LinkedIn.
About Intellias
Intellias is a global technology services provider partnering with innovative enterprises and progressive companies to help them accelerate their pace of sustainable digitization. Intellias empowers businesses operating in Europe, the US, the MENA region, and the APAC region to embrace innovation at scale. Over 2000 Intellias experts located in Ukraine, Germany, Poland, the United States, and the United Arab Emirates deliver competence and expertise in various domains. The company has been featured in the Global Outsourcing 100 list by IAOP, recognized by Inc. 5000, acknowledged in the GSA UK Awards, and named the winner of a Silver Stevie Award in the 17th Annual International Business Awards. With nearly two decades of experience, Intellias helps both industry leaders and rising startups deploy innovative customer-facing solutions, build award-winning software, and modernize technical infrastructure.