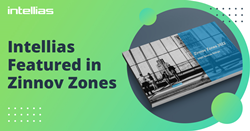 CHICAGO (PRWEB) February 08, 2023
Intellias, a global technology partner to Fortune 500 enterprises and top-tier organizations, was named among the top engineering R&D service providers in 16 categories in the annual Zinnov Zones ranking. Zinnov has recognized Intellias as an established technology partner, emphasizing the company's technological prowess and demonstrated ability to create value for clients through the end-to-end delivery of innovative engineering solutions.
A global management and strategic consulting firm, Zinnov has been releasing annual ratings of global service providers for 15 years. The company's proprietary rating framework, Zinnov Zones, is behind one of the most trusted reports globally and is considered the industry standard for benchmarking service providers across a variety of capabilities, including engineering research and development (ER&D). The annual Zinnov report evaluates the overall service maturity, scalability, expertise growth, and technology potential of software development companies based on client feedback and interviews with industry stakeholders.
In 2022, Intellias gained top positions in 16 categories among ratings of ER&D service providers, reflecting the company's focus on innovation, exceptional performance, and ever-growing engineering excellence. These categories are as follows:
1. Overall Ratings
2. Small and Medium Service providers
3. Digital Engineering Services Ratings
4. Data & AI Engineering Ratings
5. Experience Engineering Ratings
6. Hyperscalers Services Ratings
7. Hyperscalers Services (Small and Medium Service Providers) Ratings
8. Industry 4.0 Ratings
9. US Ratings
10. Europe Ratings
11. Automotive Ratings
12. Consumer Software Ratings
13. Enterprise Software Ratings
14. Software Platform Engineering Ratings
15. Industrial Ratings
16. Telecommunication Ratings
For more than 20 years, Intellias has been empowering hundreds of global organizations across many industries to innovate and transform the way they do business using advanced digital technologies. The company's recognition and high rankings according to Zinnov Zones confirm Intellias position as a leading industry player and a trusted technology partner, helping clients maintain a competitive edge and become true digital natives.
About Intellias
Intellias is a global technology partner to Fortune 500 enterprises and top-tier organizations, helping them accelerate their pace of sustainable digitalization. Intellias empowers businesses operating in Europe and the US, as well as the MENA and APAC regions, to embrace innovation at scale. The company has been featured in the Global Outsourcing 100 list by IAOP, recognized by Inc. 5000, and acknowledged in Forbes and the GSA UK Awards. With two decades of experience, Intellias is geared towards ensuring the sustained success of clients on their value journey.
About Zinnov
Zinnov is a global management consulting and strategy advisory firm that fosters strategic alliances and partners with a diverse ecosystem of world-class organizations to expand their service offering and deliver comprehensive solutions to clients. Zinnov works with organizations to generate value through custom frameworks, rich data and insights, and tailored customer-centric strategies. With advanced reasoning and analytical techniques, Zinnov helps clients worldwide to globalize their business, tackle organizational challenges, and build institutional capability.