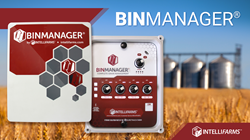 ARCHIE, Mo. (PRWEB) November 01, 2018
IntelliFarms announced today the release of the next generation of BinManagerⓇ. This latest release brings faster communication, more power and improved usability making the system even more dynamic. Don Schaefer, Chief Technical Officer of IntelliFarms and developer of the patented BinManager technology states, "Our goal of this new release was to not only make it faster and more powerful, we also wanted to make it easier to use. We did our best to put ourselves in our users' shoes to create the best product we could."
This BinManager release includes the latest LTE technology and has increased the communication speeds by 200 times. This increase allows the bin to communicate to the SureTrack FARM™ online system much faster. Along with speed, the new LTE technology provides the ability to send power failure notifications directly to users any time power is disconnected from the bin.
The upgrade also increases the sheer power of BinManager with more processing power and storage capacity. With the upgraded system you can now connect up to 30 bins (increased from 8) with one master Control Box, which passes information back to the secure SureTrack FARM account. This allows users to have the most up-to-date information on all their bins at anytime, from anywhere.
Along with the stylish new look, BinManager comes with LED lights to improve readability at all times of the day. The inside front cover is magnetic allowing you to place it on the bin wall for safe keeping as you work with the interior of the system.
BinManager is the industry's leading grain storage management system and these continuous improvements only set the bar higher. Look for the new BinManager systems to start rolling off the production line by November 2018.
About IntelliFarms
IntelliFarms is an agricultural technology company based out of Archie, MO. For more than 18 years, IntelliFarms has been working to bring increased value and profits back to the farms. SureTrack FARM™ is connecting farmers with processors and merchandisers who are looking to buy grain directly from the farms. SureTrack PRO™ is locating growers, creating transparency in supply chains and improving overall quality for processors, merchandisers and end users. Visit http://www.intellifarms.com for more information.