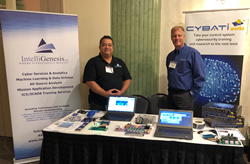 We are very excited to now include the ability for CybatiWorks to be used in classified training
COLUMBUS, Ohio (PRWEB) August 31, 2018
As leaders in the cybersecurity industry, IntelliGenesis LLC and CYBATI have formed a strategic partnership in the creation of CybatiWorks, a hands-on cybersecurity platform. To kick off the partnership, both companies will attend the DHS Industrial Control Systems Joint Working Group (ICSJWG) this week in Cincinnati, OH. The ICSJWG is organized by the DHS National Cybersecurity and Communication Integration Center and its purpose is to facilitate information sharing to help reduce the risk to the nation's industrial control systems.
Serving as a classified training partner for the CybatiWorks curriculum and hands-on cybersecurity platform, IntelliGenesis brings 10 years of Intelligence Community experience to the partnership. "I am very excited to now include the ability for CybatiWorks to be used in classified training," said Matthew Luallen, Executive Inventor at CYBATI.
The partnership will also serve to broaden the expertise of IntelliGenesis. "We are excited to expand our service base and training offerings alongside our experienced industry partner," commented Angie Lienert, CEO of IntelliGenesis LLC.
The CybatiWorks cybersecurity educational platform and training course walks participants through building, breaking, and securing critical infrastructure control systems using hands-on models. Participants are taken through several modules to learn about control system logic, systems, attacks, and defenses.
For more information on classified training opportunities contact IntelliGenesis at https://www.intelligenesisllc.com.
For more information about the platform, the upcoming 2018 CybatiWorks users and training event in November, and onDemand training, visit https://cybati.org.