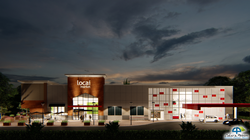 "With the way eCommerce has become infused in everyday life, grocers need solutions that leverage their stores in a meaningful way." --Steven Duffy, Senior Vice President, Cuhaci & Peterson.
ORLANDO, Fla. (PRWEB) September 12, 2019
Locai in partnership with PULSE Integration and Cuhaci & Peterson today announced their omni-channel store-of-the-future, the Omni-Store. The companies will be presenting the full concept at the Groceryshop Conference, taking place September 15th-18 at the Venetian in Las Vegas, NV. Attendees of the conference can schedule a time slot to view the Store of the Future concept or stop by booth 426 to meet with representatives from locai, PULSE Integration and Cuhaci & Peterson.
Using locai's digital commerce platform, customers can shop their grocer's aisles using in-store kiosks, mobile phones or their desktops and have their groceries picked and packed via the AutoStore system within minutes. This gives shoppers the ability to place their order in the store, where they may choose to enjoy experiencing a grocer's prepared food service or shop for other items they prefer to handle on their own. The AutoStore system will also serve as the fulfillment hub for online shoppers in the area giving the grocer a more profitable fulfillment solution while improving inventory control and reducing congestion in the store aisles.
"With the way eCommerce has become infused in everyday life, grocers need solutions that leverage their stores in a meaningful way. Through thoughtful incorporation of microfulfillment logistics, grocers can offer customers more control of how and when they shop. This end-to-end solution provides grocers the flexibility to meet their customers' needs within the existing store network, yet still be mindful of budgetary concerns," said Steven Duffy, Senior Vice President at Cuhaci & Peterson.
"Building on Steven's comment, I can't emphasize enough the flexibility and performance of the AutoStore System," said Chris Paulsen, CEO of PULSE Integrations. "Being an integrator for shuttle-based systems and other robotic material handling systems, none of them come close to AutoStore's capabilities in terms of flexibility, scalability and storage density. We're thrilled to partner with both locai and Cuhaci & Peterson to bring these capabilities to the grocery industry."
In addition to optimizing customer experience, locai's digital commerce platform integrated with the AutoStore System provides both customers and grocers a real time view of inventory into the AutoStore System; this helps to alleviate instances of missed expectations when a customer places an order online for an item fulfilled by AutoStore. Additionally, locai's PowerPick application gives grocers tools for controlling their inventory, as well as offering operators an interface for all aspects of their fulfillment operations.
Architecture and Engineering firm Cuhaci & Peterson concepted what the locai and Autostore platforms could look like in a series of virtual walkthroughs that Groceryshop attendees will experience while visiting the booth. The concept and design could then be adapted to seamlessly integrate into a grocer's brand to give shoppers an enhanced shopping experience, as well as the previously mentioned efficiencies.
To learn more about the Omni-Store, visit http://www.locaisolutions.com/omni-store.
About locai
Founded in 2018 by eGrocery veterans from FreshDirect and Peapod, locai is the first company to offer an end-to-end eCommerce solution for grocers. Their software suite includes an engaging eCommerce site configurable to the retailer's brand, a personalized meal planning application that can easily be integrated into any eCommerce site, an Endless Aisle application to expand a grocer's assortment plus a fulfillment application for use in-store or distribution centers. It's locai's mission to enable grocers to foster a direct relationship with their customers through an engaging omni-channel customer experience that engenders greater customer loyalty and to do so in a way that allows grocers to scale their online operations profitably. For more information go to http://www.locaisolutions.com.
About Cuhaci & Peterson
Cuhaci & Peterson is a national architecture, engineering and planning firm specializing in end-to-end commercial design solutions. Headquartered in Orlando, Florida since 1978, the firm also has offices in Philadelphia and Boston and is licensed in 49 states. C&P's mission of transforming ideas into value is enhanced by a staff of experts who collaborate with clients to translate their visions into designs that elevate their brands. For more information got to http://www.c-p.com.
About PULSE Integration
PULSE Integration, based in Pittston PA has been an Automation Systems Integrator since 1971. PULSE Integration combines design expertise, seamless integration, and management transparency to our approach in small and large-scale supply chain solutions for manufacturing, 3PL, and retail marketplaces. PULSE Integration is your premier provider for AutoStore storage solutions. For more information go to http://www.pulse-si.com