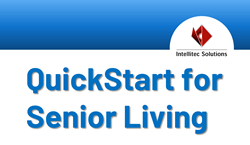 "QuickStart provides a cost-efficient and fast way for these facilities to make better and smarter decisions as they address their overall needs"
NEWARK, Del. (PRWEB) April 14, 2021
Intellitec Solutions announced today the general release of their QuickStart for Senior Living, which allows Senior Living Facilities to get better reporting and views of finances by implementing Sage Intacct cloud accounting at a fixed price point. QuickStart provides best of breed financials combined with critical industry know-how. Customers will not only gain improved visibility into their financial health they will also have access to Intellitec's exclusive IntelliConnect module, which seamlessly integrates clinical transactional and statistical information into the Sage Intacct system.
Designed to meet the needs of senior care continuum facilities, QuickStart is configured to enhance Sage Intacct and deliver a better integrated accounting and business-management solution that helps facilities transform the way they record, track, and access critical business information.
QuickStart offers three fixed cost options to meet a variety of needs and complexities clients may have. Each option features specific components ranging from the typical requirements of a single facility organization, all the way up to the multi-company requirements of large operators. For businesses that need additional services, Intellitec Solutions will offer additional add-on services on a time and materials basis.
QuickStart will also include IntelliConnect, Intellitec's proprietary module that allows users to process transactions in their clinical package, then have the information converted to match the General Ledger in Sage Intacct through an automated secure process. This allows both the finance and clinical teams use the very best solution for their own needs, while maximizing the efficiency and sharing of financial and non-financial data.
"With all the challenges in Senior Care, many forward-thinking organizations have taken the time to assess operations throughout their businesses and are seeking ways in which to become more efficient and to optimize profitability," said Rick Sommer, President of Intellitec Solutions. Sommer adds that, "QuickStart provides a cost-efficient and fast way for these facilities to make better and smarter decisions as they address their overall needs."
About Intellitec Solutions
As a leading provider of General Ledger/ERP accounting software, Intellitec delivers in-house Senior Care expertise for over 600 locations across the United States. The 30-year-old company is certified in Sage Intacct and Microsoft Dynamics and has optimized these solutions for the Senior Living Care Industry. In addition, they have developed automated integrations with leading clinical management packages to share financial and non-financial data. For more information or to schedule a demo, please visit http://www.intellitecsolutions.com or call 866-504-4357
# # # #
All products mentioned in this release are trademarks or registered trademarks of their respective holders.