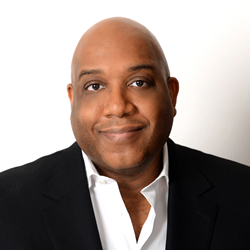 "Implementing a justice, equity, diversity and inclusion strategy is a must-have with business globalization to attract top talent, increase employee engagement and drive innovative results." - Former GM, Author, and Executive Coach Omar L. Harris
CHARLOTTE, N.C. (PRWEB) April 08, 2021
Based on 20+ years of global pharmaceutical leadership experience, Intent Consulting Founder and Managing Partner Omar L. Harris announces new J.E.D.I. Leadership (social justice, equity, diversity and inclusion) and Servant Leadership 3.0 services for corporations, small businesses and entrepreneurs. As a Former GM (GSK and Allergan), Business Thought-Leader, Gallup Certified Strengths Coach, and only African-American GM in the world for Allergan in 2020, Harris now helps organizations and managers at all levels be successful.
While leading teams on four continents (U.S., Middle East, Asia and Latin America), Harris developed 20 Team Performance Acceleration Principles, a clear blueprint for Servant Leadership, and an innovative and effective model for J.E.D.I. Leadership that can help any leader at any career stage improve and accelerate group success.
And 74% of "individuals believe their organization is more innovative when it has a culture of inclusion," according to The Deloitte Millennial Survey (The World Economic Forum.)
With the new era of J.E.D.I. Leadership, Harris emphasizes; "Implementing a justice, equity, diversity and inclusion strategy is a must-have with business globalization to attract top talent, increase employee engagement and drive innovative results. Diversity in business is about much more than gender, race and ethnicity, and cannot be a one-off campaign or one-time initiative. When there is a lack of interest in diversity, it can result in distrust among employees and impact productivity."
INTENT CONSULTING SERVICES:
NEW - J.E.D.I. LEADERSHIP CONSULTING: For organizations who want to know how to increase the number of leaders comfortable and capable of leading in the era of corporate social justice, equity, diversity, and inclusion, Harris' team facilitates executive coaching, organizational transformation initiatives, and workshops.
NEW - ORGANIZATIONAL PURPOSE DEFINITION and ACTIVATION: For business leaders, Intent Consulting helps managers define (or redefine) their WHY and how that WHY shows up for employees and customers. Defining and implementing an organization's purpose is especially crucial for a company's success in the new era of J.E.D.I (corporate social justice, equity, diversity, and inclusion.)
MOTIVATIONAL SPEAKING: Bringing a unique voice and experience, Harris is available as a Keynote Speaker, Workshop Facilitator, Conference Speaker, and Graduation Speaker on topics such as Servant Leadership, High Performance Organizations and Diversity and Inclusion. To schedule Harris to speak, event organizers can visit: https://hub.letsengage.com/omar-l-harris
LEADERSHIP 3.0 TRAINING: Based on Harris' global executive experience and bestselling servant leadership books ("The Servant Leader's Manifesto" and "Leader Board: The DNA of High Performance Teams"), Intent Consulting helps leaders become a true servant leader through on-demand training, workshops, and consulting through Leadership 3.0 Training here: https://www.servant-leader.online/
EXECUTIVE COACHING: Business thought leaders can also learn how to bring their best self to work for employees by taking Harris' THREE HOUR CHALLENGE. Harris explains; "This fast-track executive coaching session "helps you tap into your purpose, put your strengths to work, and achieve your goals faster than ever before." https://www.omarlharris.com/post/are-you-ready-for-the-three-hour-challenge
LEADERSHIP BOOKS by Omar L. Harris

"The Servant Leader's Manifesto" – Book (2020) and Audiobook (2021)
"Leader Board: The DNA of High Performance Teams" (Leader Board Series) (2019)
MEDIA CONTACT:
Liz Kelly, 310-987-7207
ABOUT: OMAR L HARRIS (Charlotte, NC, born in Pittsburgh, PA) is the founder of Intent Consulting and TYMPO.io (the world's first and best SaaS application for employee inclusion), a Former GM (GSK and Allergan), Business and Servant Leadership Thought-Leader, Speaker, Award-Winning and Bestselling Author of 5 books, including "Be a J.E.D.I. Leader, Not a Boss: Leadership in the Era of Corporate Social Justice, Equity, Diversity, and Inclusion" (Summer 2021), "The Servant Leader's Manifesto" (2020), and "Leader Board: The DNA of High Performance Teams" (2019). With 20+ years of global pharmaceutical executive experience building teams, Omar has worked on 4 continents for Pfizer, Merck, Schering-Plough and more. As a Gallup Certified Strengths Coach, Motivational Speaker and Entrepreneur, Harris is passionate about leading teams, high-performance coaching, and inspiring future leaders of today and tomorrow to adopt the servant leader mindset and stop toxic leadership behaviors. He is also the Co-Author of "From Authors to Entrepreneurs F.A.T.E.: The Personal Side of Indie Publishing" (2015) and Author of "One Blood" fiction book (2011, pen name, Qwantu Amaru – currently being developed into a television series). Harris was a featured speaker at the 2021 International Institute of Leadership Conference with his compelling topic: "The End of the Boss – 7 Rules for the Modern Leader" (March 2021), along with his work being featured by CNN HLN Weekend Express, WPXI-TV NBC Pittsburgh, Black News Channel, The Beating Alpha Podcast, The Living Corporate Podcast, Real Leaders, SHRM Blog, Thrive Global, CEO World Magazine, Human Capital Innovations (HCI) Podcast, VoiceAmerica and many more. As fun facts, Omar speaks 5 languages, plays 7 instruments, and started his first company at the age of 7. https://www.intentconsultants.co/about