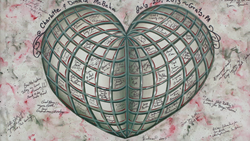 Our art prints can be used to write down positive and encouraging words.
Sacramento, PA (PRWEB) August 21, 2013
Interactive Art Therapy has deeper meaning to those searching for a distinctive and unique way of expressing one's triumphs, as well as over-coming life's tragedies. It is art therapy with a purpose. As a counseling tool, our Interactive Art prints were created for the purpose of aiding in the healing process in a lasting and visual way.
Interactive Art Print designs, "Rooms in My Heart" and "The Wisdom Tree" are appropriate to use for adults and children who are dealing with abuse, divorce, grief, or loss of any kind. For interactive art therapy, the possibilities are limitless.
Our "The Wisdom Tree" print can be used to write down positive and encouraging words to focus on, pointing towards a brighter, hopeful future for those who deal with depression. Frame and hang the print so the person can view it often, and serve as a supportive influence in their environment. Tell them if they "Leaf" those positive thoughts take "Root," they will "Branch Out" to become "Oak Tree" sized attitudes.
Another suggestion for interactive art therapy, is for the counselor to ask someone dealing with a tragic event or trauma, such as abuse, to fill in the rooms of the heart with the names of people they love and trust, or positive events they hold in their heart. Also, ask the client to keep one "room" empty, and blank, signifying the person or event that caused pain and hurt in their life. Slowly, as they are ready, letter by letter, ask the client to fill a word such as "forgiven" or "healing" in that space. They will learn that the wounded part doesn't disappear, but the rest of their life and heart becomes so much more prominent and will eventually overshadow the wounded space.
We encourage art therapy counselors, therapists, psychologists and psychiatrists to visit http://www.KEEKreations.com or email Karen at Karen(at)KEEKreations(dot)com for more information.
KEE Kreations has been presenting quality art since 1985, with an emphasis on personalization and unlocking the door to meaningful aesthetics for customers all around the country.
Media Contact
Karen Erdman
Karen(at)keekreations(dot)com
570-640-8622