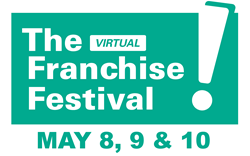 So many people are looking for new opportunities right now, Franchising gives people the opportunity to start a business without feeling overwhelmed and alone. They have the support system of a company behind them with training, marketing and in most cases a proven brand
MARKHAM, Ontario (PRWEB) May 07, 2020
The Virtual Franchise Festival will launch May 8-10, 2020. The online event is produced by the owners of the Franchise Expo as a way for people across Canada to research, network and get educated about investing in a franchise without having to leave their homes. The show is 100% online and connects over 300 franchises and business opportunities from all over North America with attendees at a time where social distancing is imperative.
The impact of Covid-19 on Canadian's jobs has been devastating. Layoffs across the country continue to intensify and there is every indication the labour market will continue to deteriorate. Investing in a franchise is a viable way for the average Canadian to make a change in his or current circumstances and become a business owner. While people are stuck at home because of social distancing they can become a virtual attendee and network with franchise representatives by communicating directly with them through the Virtual Franchise Festival Portal. The Festival is a great way to see what opportunities are available right now in their immediate geographical area. "So many people are looking for new opportunities right now," says Fred Cox, president, National Event Management, who produces the Franchise Expo. "Franchising gives people the opportunity to start a business without feeling overwhelmed and alone. They have the support system of a company behind them with training, marketing and in most cases a proven brand."
Over 300 franchises from a broad range of industries like traditional retail stores and restaurants to fitness, home services, education, automotive, business services and health care will be represented. The event features over 20 free educational webinars and seminars given by leading industry experts including: lawyers, consultants, and franchisors. For more information and a see a full schedule of seminars and webinars visit http://www.virtualfranchisefestival.com
The Virtual Franchise Festival are produced by National Event Management. National Event Management is the largest producer of franchise events across North America with 26 annual Franchise Events showcasing over 1,700 businesses to 65,000 prospective business owners annually.
For more information, contact:
Lisa Spodek, Director of Marketing
1-800-891-4859 ext. 225
lspodek@nationalevent.com