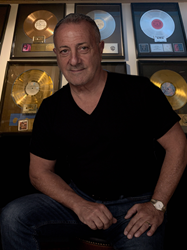 "We set out to give artists the way to find their songs, their voice and their story. Intercept Music is a logical next step for artists to share that story with the broadest global audience." – John Cesario, CEO and co-founder, Rocket Songs
SAN FRANCISCO (PRWEB) January 09, 2019
Independent artists gain a big boost for both their catalogs and their marketing capabilities as innovative social media, marketing and music distribution service Intercept Music forms a partnership with Rocket Songs, the marketplace for original songs. For independent artists, the partnership provides career support along a full range of needs: Intercept Music services activate maximum visibility through automated marketing and distribution, while Rocket Songs offers a vast collection of quality songs by top songwriters and producers, that artists can perform and make their own. Newly signed Intercept Music partner Studio3Bee, the Nashville collective of record label executives Butch Waugh, Skip Bishop and Renee Bell, spearheaded the partnership between the companies. The alliance was announced today by Ralph Tashjian, chairman of Intercept Music.
"Great songs are the heart of the music industry, and are essential for an indie artist to make it big," said Tashjian. "With Rocket Songs, independents have a huge selection of hit songs that they can license, record and add to their catalog. Lay down those new tracks, put them out to the world via the Intercept Music platform – that's a killer combo that gives artists what they need to succeed."
"As a team that's focused on the success of independent artists, we're totally on board with Intercept Music's key mission in building an artist's career," said John Cesario, CEO and co-founder of Rocket Songs. "We set out to give artists the way to find their songs, their voice and their story. Intercept Music is a logical next step for artists to share that story with the broadest global audience."
Each company will promote the collaboration to its active user base through direct communications to account holders, including newsletters and email communications.
Rocket Songs is a marketplace for original songs from professional writers and producers, empowering artists from across the globe to make these songs their own. Using the Rocket Songs library, artists can search, find and listen to songs categorized by genre, mood, similar artists, male or female vocalist and other criteria. Once licensed, artists can record, perform and distribute their own version of their songs.
Intercept Music offers an unmatched combination of tools to enable independent artists to promote, market and distribute their own music. The core Intercept Music suite automates social media marketing for artists, enabling them to precisely plan and schedule the release of news and new songs months at a time. The platform offers artist-centric tools to find new audiences, share music and videos, and chart per-track performance.
With a subscription to the service, artists also gain free, optional worldwide distribution of their music to more than 600 digital storefronts and every major streaming service in more than 200 countries. Artists can also opt for concierge-level service to set up and launch their accounts, and even one-on-one coaching with a range of experts in multiple genres to help guide their music and career development.
Studio3Bee joined forces with Intercept Music in November, 2018, and the partnership with Rocket Songs is their first collaboration. Headed by former Sony Music Nashville executives Skip Bishop, Butch Waugh and Renee Bell, Studio3Bee functions as a Brand Ambassador for Intercept Music among contemporary artists in the country, Americana, bluegrass, AAA and Texas genres. The three executives spent 15 years working together at Sony Music Nashville, garnering no less than 100 awards for their artists from the CMA, ACM and GRAMMYS and helping the company reap Label of the Year honors nine years in a row.
About Intercept Music
Intercept Music is a tech company with the soul of an artist. In the crowded music marketplace today, 12 million artists are competing for fans and audiences that have almost unlimited access to music, whether from streaming services or online retailers. Our software suite delivers an unsurpassed combination of social media scheduling, distribution, analytics and expert coaching, empowering artists to connect with new audiences, measure their results and distribute and monetize their music like never before. Intercept Music is a specially developed version of the award-winning Intercept Marketing automation software that's used by thousands of small businesses around the world. For more information, go to interceptmusic.com