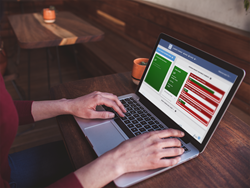 With over 3 million new investors and individual investors accounting for 25% of trading volume in 2020 the need for a proven, insightful and actionable market decision support app is essential to compete effectively in today's markets.
SALT LAKE CITY (PRWEB) January 27, 2021
INTERConnect Analytics is excited to announce the launch of our latest app RelateTheNews 2.0, for individual investors.
We have taken the success and capabilities of our first investor app at RelateTheNews and evolved them with new charting, extended sentiment analysis, and powerful market decision support dashboards to aid in investment and risk management decision making.

Act with more insightful information – RelateTheNews 2.0 has added sentiment analysis of U.S. SEC filings each and every market day. Our investor focused app also continues to include market-centric sentiment analysis of over 1000 unique articles each day of the week.
Invest and Manage Risk with deeper understanding – Our charts have evolved to provide three essential views into news and filing driven stock market sentiment. Using our sentiment charts investors can easily visualize trends of news sentiment. Extending investor's capabilities even further, they can now chart changes in tone within regulatory filings using the INTERConnect Analytics market centered sentiment analysis. And finally, our clients can see the rate-of-change of sentiment for news and filings empowering them to identify and act on changes in the markets.
Know first – With the new dashboard in RelateTheNews 2.0 our clients can know first when sentiment is changing in market focused news and receive daily sentiment derived market indicator. These new dashboard tools enable investor to quickly adjust their investing or trading to manage risk or capitalize on opportunity.
RelateTheNews continues to be powered by the investment industry's proven sentiment analysis engine created by INTERConnect Analytics. With this new release of RelateTheNews we have also extended the data available to include AlphaEDGAR data – INTERConnect Analytics' extensive U.S. regulatory filing sentiment analysis data set. As always, our app is privacy-focused and fully responsive - built for use on phones, tablets and computers.
New clients can sign up now for RelateTheNews 2.0 - https://app.relatethenews.com
INTERConnect Analytics started in 2013 applying domain specific NLP and AI to transform text based big data sources into quantified actionable insights. RelateTheNews was launched by INTERConnect Analytics in 2015 meeting the investment alternative data needs of both individual users via an app and some of the world's largest hedge funds using a real-time easy to integrate data API. In 2018 INTERConnect Analytics launched AlphaEDGAR our S.E.C regulatory filing sentiment analysis data available via a REST API as well as now in RelateTheNews 2.0. Learn more at https://www.interconnectanalytics.com