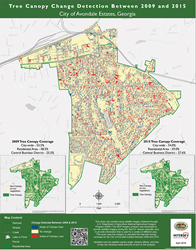 "Advanced GIS technologies and services have become vital to governmental operations and constituent services, and InterDev is working with more than a dozen cities and towns to deliver their potential."
ALPHARETTA, Ga. (PRWEB) August 24, 2017
InterDev, an Atlanta-area provider of information technology, security and geographic information systems (GIS) services, today announced that one of its maps, created for a municipal client by InterDev employee Michael Edelson, GISP, was selected by GIS software leader Esri for publication in the 2017 Esri Map Book (Volume 32). The map, Tree Canopy Coverage and Change Detection for the City of Avondale Estates, was published in the Government, State and Local category. This honor represents the second year in a row that an InterDev map has been selected by Esri for publication.
The map was created as part of an urban tree canopy study, which used aerial imagery from the U.S. Department of Agriculture to measure tree canopy throughout the city. The canopy will be tracked over time, providing critical data to assist city decision makers and citizens in planning and development efforts.
"GIS mapping is becoming a vital element of operations and constituent services for governmental entities, from map portals for residents and businesses to infrastructure mapping and tracking," said InterDev CEO Gary Nichols. "InterDev is currently working with more than a dozen cities and towns to deliver advanced GIS technologies and services."
The Esri Map Book debuted at the 2017 Esri User Conference, held July 10-14 at the San Diego Convention Center. Five InterDev GIS team members, including Edelson, attended the event. For the conference, each team member also submitted a map for possible publication in the conference Map Gallery. Out of 900 submissions, all of the InterDev maps were selected for display, and one of them won third place in an excellence competition.
About InterDev
Beyond their principal role as strategic provider of Managed IT and Security Services, InterDev is well known as a champion of IT visioning and innovation for growing businesses and government agencies – a role they perfected over nearly four decades. In addition to managing and hosting IT operations for its valued clients, InterDev also offers MosaicGIS™, a cloud-based, software-as-a-service GIS platform based on Esri, as well as VoIP telecommunications services and circuit solutions. InterDev delivers services to business and municipalities throughout the Southeast and Midwest from their offices in Atlanta, Beaufort (SC) and Chicago. For more information, visit http://www.interdev.com.