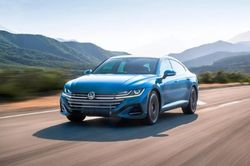 LAS VEGAS (PRWEB) January 10, 2023
Sedan drivers in and around the Las Vegas area in Nevada planning to buy a new car this year have a great opportunity now. Volkswagen has added the latest version of the stylish Arteon model to its lineup. The new 2023 Volkswagen Arteon is both powerful and capable. This sedan is now available for purchase at the Findlay North Volkswagen dealership. Drivers fond of sleek, stylish and next-gen sedans that display brilliance on the road should check out this vehicle.
Interested buyers can browse the latest 2023 Volkswagen Arteon via the dealership's well-detailed website. They can find all the essential technical specs there. Drivers can also test drive this sedan when they visit the dealership physically. Test driving helps drivers better analyze how the vehicle behaves in real time on the road. The 2023 Volkswagen Arteon carries a power-packed Turbocharged engine under its hood that delivers about 300 hp of engine power. This enhances the overall driving experience. Potential buyers can reach out to the dealership's sales team to learn more about the 2023 VW Arteon.
Customers can visit the http://www.findlaynorthvw.com [findlaynorthvw.com __title__ 2023 Volkswagen Arteon] website to learn about the various Volkswagen offers, special deals and vehicle services available at the Findlay North Volkswagen dealership. For detailed information on the stunning 2023 Volkswagen Arteon, they can visit the dealership at Findlay North Volkswagen, 7500 West Azure Drive, Las Vegas, NV 89130 or contact them by phone at 702-982-4800.