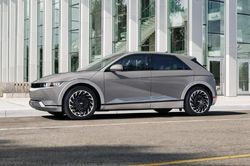 MORENO VALLEY, Calif. (PRWEB) November 08, 2022
Hyundai of Moreno Valley, a dealership in Moreno Valley, CA, has now added the brand-new 2023 Hyundai IONIQ 5 SEL to its inventory.
The Hyundai IONIQ 5 SEL is a quick-charging SUV with a respectable range. This dynamic SUV's portfolio offers a rear-drive, 168-horsepower IONIQ 5, which has a range of 220 miles, according to the EPA. One of the most potent EVs available today for around $60,000 is the large-range, single-motor, rear-drive model. But the true hero in the Hyundai IONIQ 5 segment is its 350-kW DC fast-charging capacity, which makes it possible to charge EVs at rates as swift as those provided by much more expensive and opulent models.
Interested buyers can visit the dealership and take the SUV for a spin before purchasing it. This model has more room inside than the Ford Mustang Mach-E or the Volkswagen ID and has more capacity for rear passengers. The IONIQ 5 is an excellent option for anyone considering EV ownership for the first time, offering a wide range of cost and range options.
Please visit the http://www.hyundaiofmorenovalley.com website to learn about the vehicle services and offers available at the Hyundai of Moreno Valley dealership. For more details on the impressive 2023 Hyundai IONIQ 5 SEL, visit the dealership at 27500 Eucalyptus Ave., Moreno Valley, CA 92555, or contact them by phone at 951-900-4248.