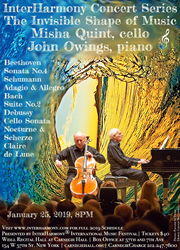 The core of the nature of creating melodic musical lines is the ability, with the sound of several notes, to express colorful feelings and images that make them personal to each listener - the invisible shape of music.
NEW YORK (PRWEB) January 16, 2019
The program, The Invisible Shape of Music, on the 25th of January at 8PM, creates this invisible but powerful exhibition of a wide range of emotions, displaying all musical styles with the resolve of Beethoven, baroque Bach, capricious Schumann, and impressionistic Debussy. Cellist Misha Quint and pianist John Owings will perform this concert presented by InterHarmony® International Music Festival at the Weill Recital Hall at Carnegie Hall. Tickets can be purchased at carnegiehall.org or by calling CarnegieCharge at 212.247.7800. More information can be found at http://www.interharmony.com.
Starting with the meditation-like opening of the first movement of Beethoven's late Sonata No.4, his invisible melodic lines transform into heroic struggle. It almost feels as though Beethoven is fighting his own feelings, where every movement resurfaces something that somehow has not yet been said.
Following the Beethoven, J.S. Bach's Unaccompanied Cello Suite No.2 brings solitude as emotions transfer into the shape of the invisible prayer where each person may hear a desirable note for their heart.
Robert Schumann's Adagio and Allegro brings one through the cascades of subtle nuances and delicate phrases full of passion that are reflected in his major works.
At the end of the evening, spent with emotion, suddenly Misha Quint and John Owings bring Debussy's Clair de Lune to the stage, with its charm and finesse, melodic lines of Nocturne and Scherzo, and full fire of his Cello Sonata.
Mission finally accomplished.