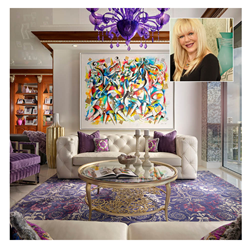 We are thrilled and honored to have such a recognized force in design become part of the Perla Lichi Design team.
POMPANO BEACH, Fla. (PRWEB) September 13, 2019
Interior designer Perla Lichi, http://www.perlalichi.com is excited to announce that the distinguished and well known designer Arnold Schulman, ASID, has joined her team. Like Perla Lichi, Schulman is a Florida State licensed interior designer. He is a prominent and well-regarded designer throughout South Florida and beyond. Schulman created award-winning interiors as the senior designer at another top interior design firm for 25 years and most recently through his own design firm, Arnold Schulman Design Group.
"We are thrilled and honored to have such a recognized force in design become part of our team," says Lichi. "With Arnold's extensive expertise in luxury interior design and his many successful years of designing projects at South Florida's most prestigious addresses, Arnold will enable us to serve an ever-widening array of clients, both residential and commercial."
"By combining our considerable design expertise in many different styles, and established contacts throughout the industry, Perla and I look forward to expanding our luxury design clientele," says Schulman.
Arnold Schulman is a prominent leader in the South Florida Interior Design community. With over 40 years of professional design experience, Schulman's expertise has been commended in numerous nationwide interior design magazines. He is Florida State Licensed with the Board of Architecture and Interior Design, FL ID #1235, and a professional member of the American Society of Interior Designers. Schulman was named IDG Interior Designer of the Year. He received four ASID Design Excellence Awards, to name a few of the many accolades he has achieved in his design career.
As an industry expert, Schulman brings a broad knowledge of interior design to all his projects. His vast knowledge stems from the years spent developing the South Florida luxury landscape in such areas as Fisher Island, Star Island, Williams Island, Turnberry, and Porto Vita. He has also created luxury interiors for clients in The Hamptons and Manhattan. View Schulman's portfolio on Houzz.
Perla Lichi has received more than 800 national and international awards for residential and commercial interior design projects. Her work has been widely publicized in print and online magazines, newspapers, and on television. Perla Lichi has published six coffee table books showcasing her extensive design work.
Perla Lichi is a Florida State licensed interior designer, ID#1727 and a professional member of the American Society of Interior Designers. For more information visit http://www.perlalichi.com or call Janet Verdeguer 954-732-1188, janetv@perlalichi.com