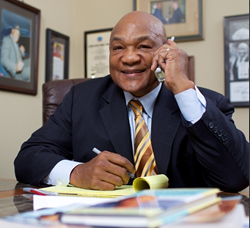 Our goal, as always, is to form long-term brand partnerships
LOS ANGELES (PRWEB) November 09, 2018
InterMedia Advertising® and InterMedia Entertainment® (InterMedia) are pleased to announce retired boxer and two-time World Heavyweight Champion George Foreman, and his family, as the brand ambassadors for Choice Home Warranty, premier provider of home warranties for repair or replacement of home major systems and appliances in the United States.
"George Foreman is one of the most beloved and successful spokespersons in the history of direct response advertising. With his big, beautiful family and his reputation as its defender, both in and out of the ring, he is a natural ambassador for Choice's message about protecting your home and family with a home warranty," said Robert Yallen, President and CEO of InterMedia Advertising.
"It is with great pleasure that we announce today our brand partnership with George Foreman and his family. George will be a fantastic spokesperson for our line of home and appliance warranty programs, and we look forward to many years of a successful brand partnership with a man so widely respected and admired", said Victor Mandalawi, Founder and President of Choice Home Warranty.
"I'm happy to have Choice Home Warranty in my family's corner," says George Foreman. "Paying for unexpected appliance repairs is like a punch in the gut, and when it comes to home warranties, you can't lose with a heavyweight like Choice Home Warranty."
According to Hunington Sachs, Esq., Vice President of Business & Legal Affairs for InterMedia Entertainment and InterMedia Advertising, George Foreman, his wife Mary Joan, his son George "Red" Foreman V, and daughter Natalie Foreman, will be featured in television, radio, online, social media, and print media advertising campaigns. "George Foreman is liked by millions of people, and we are pleased that he has chosen to leverage that trust on behalf of such a reliable company as Choice Home Warranty," says Sachs. "Our goal, as always, is to form long-term brand partnerships on behalf of our advertising clients with spokespersons who have a natural and organic connection to the product. George Foreman and his family are policyholders with Choice Home Warranty and will be able to speak from experience about the valuable protection Choice's policies provide. George is a man of integrity and strength, and we believe potential customers will respond well to his endorsement of the warranties and service provided by Choice Home Warranty."
Please contact Stacy Kalutskiy, Marketing Coordinator, at 818-577-1528, skalutskiy@im.agency
About InterMedia Entertainment®
InterMedia Entertainment's formula for success is deep entertainment industry relationships, plus expert knowledge, and its proprietary research tool the DR Star Index® equals maximum entertainment marketing ROI. It offers celebrity deal-making services to a range of businesses, including new marketers, companies with existing campaigns that need renewed creative, and other advertising and marketing entities. InterMedia has executed campaigns with such leading entertainment figures as Holly Robinson Peete and Rodney Peete, Jimmy Johnson, Larry King, William Devane, Steve Garvey, Gabby Reece, Bob Vila, Joey Fatone, Shannen Doherty, Chuck Woolery, Joe Theismann, and Joan Lunden. The Company has offices in Los Angeles and New York City. For more information, go to http://www.intermediaentertainment.com
About InterMedia Advertising®
InterMedia annually places over $600+ million in media and remains true to our founder's guiding principles. Our cutting-edge, propriety resources included targeted media networks, exceptional analytic and reporting tools, and a state-of-the-art production facility. These, combined with our service-first mindset, have positioned InterMedia at the top of the direct response industry. For more information, go to http://www.im.agency
Contact
Hunington Sachs, Esq.
InterMedia Entertainment
and InterMedia Advertising
818-933-8739