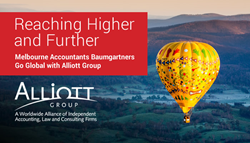 Affiliation with Alliott Group adds credibility to our presence in the market place and demonstrates to existing and potential clients that we have the capacity to to deal with their international financial affairs.
(PRWEB UK) 27 November 2016
The need to broaden the scope of services available to clients involved in complex international business matters is the key driver behind Baumgartner's decision to affiliate with Alliott Group, one of the world's most established international associations of independent accounting and law firms.
For the last five years, Baumgartners' business plan had stated the need for affiliation with a national and international group of firms, but previous suitors' approaches had been rejected due to what founder and managing partner David Baumgartner describes as "a lack of cultural alignment."
The three-partner, 48-staff firm has grown steadily since its establishment in 1983 and now serves a client base comprising corporates, family owned enterprises and private clients with accounting, audit, tax and other financial services.
Baumgartner comments: "Affiliation with Alliott Group adds credibility to our presence in the marketplace and demonstrates to existing and potential clients that we have the capacity to deal with their international financial affairs. We already have need for international assistance for some of our clients who have complex trading and tax structures."
James Hickey, CEO of Alliott Group adds: "Baumgartners is a progressive, entrepreneurial firm that will integrate seamlessly into an association of like-minded firms that share their passion for providing service and technical excellence to small and medium sized businesses. We are delighted that Baumgartners elected to join Alliott Group over a number of our competitors. Our 2017 Worldwide Conference will be held in Australia next year and will provide an excellent opportunity for the firm to develop profile with the global membership.
"We continue to build a strong alliance in Australia and invite other entrepreneurial mid-market accounting and law firms to come forward."
Baumgartners is registered with Chartered Accountants Australia and New Zealand, the National Tax and Accountants Association and The Tax Institute, Australia's leading educator and professional association in tax.
About Baumgartners
Established in 1983, Baumgartners is a chartered accounting firm with a history of providing excellence in strategic advice and business services.
Baumgartners is an energetic and passionate firm of professionals with a breadth of technical expertise. Combined with real business experience, this sets the firm apart from the rest. The firm is growing rapidly because of a genuine approach to client service, the exceptional results achieved for their clients, and an emphasis on people and relationships. The firm provides a broad range of services from accounting and taxation through to business consulting, superannuation, growth strategies, asset protection and risk minimisation strategies.
About Alliott Group
With over 165 member firms in some 70 countries, Alliott Group offers independent, mid-market accounting and law firms the opportunity to extend nationally, regionally and globally with their clients through access to firms of like-minded professionals who are committed to providing the highest standards of service. Members exchange, benchmark and share know-how and best practice information at both the technical and practice management levels. For more information, please visit Alliott Group's website or find us on LinkedIn or Twitter @AlliottGroup1.