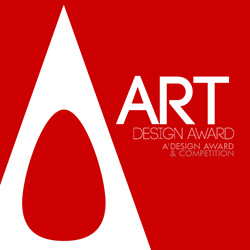 A' Design Award & Competition
COMO, Italy (PRWEB) December 18, 2018
The A' Arts, Crafts and Ready-Made Design Awards is organized yearly by A' Design Award and Competition in pursuit of recognizing excellent design projects by artists, craftsman, makers, art directors, glass designers, ceramic artists, sculptors, painters and creators worldwide from all around the World. Design products that were proposed and completed within the last 10 years are acceptable to be submitted. Each year, A' Arts, Crafts and Ready-Made Design Competition features a reputable jury panel of specialist in art design to evaluate projects submitted to A' Design Award.
The first phase of A' International Arts, Crafts and Ready-Made Design Award is the preliminary round where designers submit their design works for preliminary evaluation. Art design projects that have received a high preliminary score in the preliminaries can proceed with nomination. However, the registration and submission a design project for the preliminaries is free of charge, there is a fee for nominating entries for the finals.
Laureates of the A' Arts, Crafts and Ready-Made Design Award 2019 will be granted the A' Design Prize which contains a series of PR, marketing and publicity tools to celebrate status of winning the A' Design Award. In addition, awarded designers will be entitled to the design excellence certificate, lifetime license to use the A' Design Awards winner logo, yearbook of best designs, exhibitions of awarded design projects in Italy, professional trophy and personal invitation to take part in the A' Design Awards' Gala Night ceremony, as well as inclusion in Best Designs of the World.
Deadline for late submissions is on February 28, 2019 and design project should be submitted by this date, however further modifications could be made within seven days of entry. Results of the competition will be released on April 15, 2019. For more information on Arts, Crafts and Ready-Made design category and its submission requirements, please check submission guidelines and last year winners at https://competition.adesignaward.com/competitions/artcraft.html
About A' Arts, Crafts and Ready-Made Design Award
The A' Arts, Crafts and Ready-Made Design Awards organized yearly by the A' Design Award and Competition, was established to create awareness for innovative, original and sustainable art designs that create a positive impact on our environment by identifying and endorsing excellent design projects from distinguished designers worldwide. A' Arts, Crafts and Ready-Made Design Award is greatly committed to the idea of supporting creativity and competence in art design by advertising best design projects worldwide throughout a wide network of media partners. To learn more about the A' Design Awards and the A' Arts, Crafts and Ready-Made Design Award please visit http://www.designaward.com