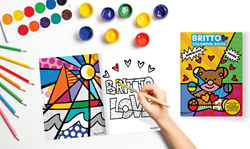 Art is too important not to share - BRITTO
Miami, FL (PRWEB) March 22, 2020
As the world retreats and practices safety measures, like staying at home, we find ourselves uniting digitally and feeling closer than ever to countries and people far from home. While we all do our part in this global situation, Romero Britto is bringing you some free "at-home entertainment" as a form to thank everyone for staying at home.
With the intention to inspire hope universally, Britto invites you to download, print and paint his FREE digital Coloring Book and invites you to join The Happy Art Movement, founded by him.
The book is available to download by clicking here, http://www.britto.com/britto-coloring-book.
Britto encourages you to post your masterpieces and share them with him and the world! Tag @RomeroBritto and use #HappyArtBritto on Instagram to be featured in his story.
Romero Britto's mission has always been to share love, happiness and optimism around the globe through his unique art and colors. Be part of The Happy Art Movement and help share happiness, love, optimism and hope right now with people and places that need it the most.
For more information please visit, http://www.britto.com and http://www.shopbritto.com.
Contact info@britto.com for any additional information.