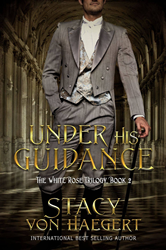 If you merged these two shows together and added a dash of humor, like in The Great…then huzzah! That's a pretty good idea of what you'll be getting in the White Rose trilogy."- Stacy Von Haegert
BRANDON, Miss. (PRWEB) February 24, 2021
Readers on the hunt for their next great story following the same tone as Netflix series Bridgerton and Starz series Outlander, look no further. International Best-selling Author and ballroom dancer, Stacy Von Haegert released Book Two in the White Rose trilogy, Under His Guidance, on Feb 22nd with Foundations Book Publishing Company.
"The White Rose series is about shattering stereotypes," Stacy Von Haegert shared across her social media platforms. "I didn't want it to be a traditional, fluffy harlequin romance. I wanted to write more about inner struggles, detailed plots, layered characters, and laugh-out-loud moments that sneak up on the reader. I wanted to break the mold and redefine what 'fictional' historical romance looks like. This is why I was thrilled with the big screen adaption of Bridgerton. Finally, another rule breaker! I thought to myself, These are my people. Likewise, with Outlander. If a reader enjoys the trials, romance, drama, and chemistry of this style, my books follow a similar cadence. Actually, if you merged these two shows together and added a dash of humor, like in The Great…then huzzah! That's a pretty good idea of what you'll be getting in the White Rose trilogy. Untraditional, but captivating, nonetheless."
Book One, Under His Protection, is on sale for the release of Under His Guidance and quickly rose to the top ten in Historical European Fiction in the United States, the top ten in Historical Regency Romance in the United Kingdom and Canada, and the top ten in Historical Romance in Australia. Both books are currently available on all online retail sites and for expanded distribution.
Stacy Von Haegert is the International Best-selling Author of two genres: Historical Romance (The White Rose trilogy), and Dark Fantasy (Lords). Stacy currently lives in historic downtown Franklin, TN with her husband, teenage son, calico cat, and Belgian Tervuren, where she writes by day and teaches ballroom dance in the evenings. She is obsessed with old houses and good literature.
Facebook: @TheWhiteRosebyStacyVonHaegert; Twitter: @StacyVonHaegert; Instagram: authorstacyvonhaegert
Read more about Under His Guidance, Book Two of the White Rose trilogy here:
https://www.FoundationsBooks.net/book/under-his-guidance/
For author interviews and all media inquiries contact:
Susan Pierce
Publicist & Promotions Director
Foundations Book Publishing Company
SJ.Pierce@FoundationsBooks.net
Direct: 404-410-6956