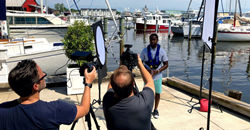 "This commemorative celebration is a reminder . . . about the importance of our continuing efforts to partner together to create a safe experience for all boaters." - Captain Scott Johnson, Chief of the Coast Guard Office of Auxiliary and Boating Safety
MANASSAS, Va. (PRWEB) April 26, 2021
The International Boating and Water Safety Summit (IBWSS), a global networking and education opportunity for anyone involved in boating and water safety, will be held virtually from May 17-19, 2021 with free registration. IBWSS will explore "Partnerships for Progress" – a close look at how recreational boating and water safety communities collaborate to save lives around the world.
IBWSS is hosted by the National Safe Boating Council, whose mission is to create a safe boating experience for all recreational boaters, in partnership with the U.S. Coast Guard.
"As the demand for recreational boating and water activities has increased during COVID-19, it is imperative that we continue to offer this comprehensive boating and water safety conference," said Peg Phillips, executive director of the National Safe Boating Council. "Attendees from all over the world can safely join from the comfort of their home or office – and registration is free!"
IBWSS will be held virtually from May 17-29, 2021 featuring dynamic keynote speakers, informative and interactive breakout sessions, panel discussions, and a virtual exhibit hall. Programming will be offered daily from 1:00-4:00 pm EDT, with the IBWSS Virtual Exhibit Hall open two hours prior to and one hour following the main conference agenda. Please register for free by May 12, 2021 at https://www.ibwss.org.
The conference will join in the celebration of the 50th anniversary of the Federal Boat Safety Act of 1971. The Act established the National Recreational Boating Safety Program and gave the U.S. Coast Guard the authority to establish mandatory boat manufacturing and safety standards. Learn more at http://www.federalboatsafetyact.com.
"Over the last 50 years, the Federal Boat Safety Act of 1971 has helped to continue the industry and cultural focus on boating safety," said Captain Scott Johnson, Chief of the Coast Guard Office of Auxiliary and Boating Safety. "This commemorative celebration is a reminder to the entire boating safety community, including all levels of government, non-profit organizations, and the boating industry, about the importance of our continuing efforts to partner together to create a safe experience for all boaters."
IBWSS is partially funded under a grant from the Sports Fish Restoration and Boating Trust Fund, administered by the U.S. Coast Guard. Learn more at https://www.ibwss.org.
About the National Safe Boating Council
Founded in 1958, the National Safe Boating Council (NSBC) serves as a national catalyst for developing a safe boating culture by providing educational resources, outreach programming, and training opportunities for industry partners and the boating community to influence safe, secure, and responsible boating. Learn more at https://www.safeboatingcouncil.org.