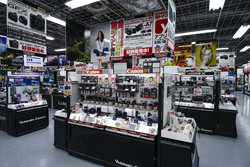 TOKYO (PRWEB) December 22, 2020
Purpose of the survey:
The price comparison was conducted for camera prices on Amazon with the purpose of examining whether or not their are countries in which you can purchase cheap cameras, and if so, where by nukeni.com, a website for comparing international camera prices.
Methodology:
Date: December 19, 2020
Subjects: Amazon in Australia, Brazil, Canada, China, Germany, Spain, France, UK, India, Italy, Japan, Mexico, USA
Method: The prices of cameras released within the past two years and sold in at least six of the 13 countries surveyed were checked on the Amazon of each country, and the number of products sold at the lowest price among the 13 countries was counted by country. (Compact digital cameras were excluded.)
Results:
The country with the largest number of products with the lowest prices was the US, with 48 products in all. China came in second with 21 products. Third place and below are as follows: Canada (9), Australia and India (8). The other countries are 0. Most of the models showed that the US offered to cheapest products. The Canon EOS R5 body had a relatively large price disparity, and was the cheapest in the US at $3,899, but was $4,793.97 in the next cheapest country, Australia, a difference of $894.97.
Impressions:
One of the characteristics of the US market, which had the largest number of the lowest camera prices, is the large number of items sold by retailers on Amazon with proprietary extra products, such as camera bags and memory cards. This is likely related to the fact that camera manufacturers have a limit to the amount they can reduce prices due to their price controls, so they reduce total prices by adding extras instead of lowering the sales price. This shows the fierce competition among retailers in the US.
About us:
nukeni.com was developed by Junpei Saito, a Japanese web developer, and was made public in April 2019. In the future, they plan to publish price information on parts other than cameras themselves, and add a function to allow retailers to set and publish their own prices outside of Amazon.