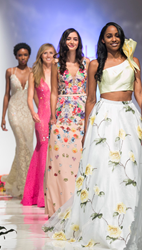 The power, inspiration and heart of the social occasion industry is on display at Atlanta Apparel each August. - Mary Sullivan, senior vice president of Leasing
ATLANTA (PRWEB) August 07, 2018
Atlanta becomes the epicenter of formal fashion as the WORLD OF PROM Market brings together the world's top social occasion designers and retailers, August 7-11, 2018 at Atlanta Apparel.
The Market's international collection of trendsetting gowns, tuxedos, accessories and more is a showcase of the social occasion industry's top designers and lines. Augmenting the permanent collection are new showrooms Allie Blu, Amelia Couture, Carrafina, Jessica Angel, Karishma Creations/Sweetie's Shoe Collections, SCALA and FLAIR, who makes its corporate debut at the Market. Expanding their spaces for the 2018 WORLD OF PROM are Amy Holton Designs, Fernando Wong Couture and Stefanie Somers, while Johnathan Kayne, Morrell Maxie, Nicole Bakti, Nox Anabel and Ritzee Designs relocate.
The temporary collection presents many new-to-Atlanta lines including Amarra USA, Atria Clothing, Cecilia Couture, Creations by Lynette, Dress Haute, GLS Collective, MeJeanne Couture, Pixton Design Group, Star Formals and Talisha White. The Fashion Institute of Technology's FIT Design Entrepreneurs Collaborative also takes a space at the Market to showcase emerging fashion designers Cenia NY, Chikimiki, Minan Wong and Soltek Design.
WORLD OF PROM continues its international dominance of the social occasion industry with a strong contingent of global designers including Basoglu Giyim (Turkey), Chic & Holland (The Hague, Netherlands), Dulce Celia (India), Elle Zeitoune (Australia), Fidda (Turkey), For Costume (Turkey), Gatti Nolli Couture (Lebanon), Jadore Evening (Canada), Loré (England), Mascara (England), Ömür Özer (Turkey), Pia Michi (England), Portia & Scarlett (Australia), Ragazza (Mexico), Saboroma (Turkey) and Tarik Ediz (Turkey).
"The power, inspiration and heart of the social occasion industry is on display at Atlanta Apparel each August," says Mary Sullivan, senior vice president of Leasing. "WORLD OF PROM continues to reign as the most important buying, networking and educational opportunity for this industry in the world."
New for 2018 is a WORLD OF PROM Trend Series showcasing what's new and next in prom and pageant style from fashion to accessories to styling. Award-winning makeup artist Meredith Boyd presents a live-model tutorial of all the top pageant/prom/social occasion looks for hair and makeup in the upcoming seasons on Tuesday, August 7, and celebrity designer Johnathan Kayne shares top prom and pageant styles on Wednesday, August 8. All trend presentations take place in the Style Studio in the new Floor 14 Social Occasion collection.
The Market's celebrated Education Series returns with a new roster of today's social occasion thought leaders. AmericasMart's Fashion Theatre hosts a roster of must-see presentations including Deshauna Barber, Miss USA 2016, on Tuesday, August 7; Sal Macaluso, CEO of eStyleCentral.com, presenting on "The Omni-Channel Marketing Experience" on Wednesday, August 8; and Shantel Khleif and Margot Dukes, co-founders of Imagine Media Consulting, teaching "Social Media Marketing 101" on Thursday, August 9.
Must-see looks from across the Market are showcased in two runway shows. Top trends from Floors 10 and 12 are showcased on Tuesday, August 7 with those from WORLD OF PROM's newest collection on Floor 14 showing on Wednesday, August 8.
WORLD OF PROM is co-located with the August Atlanta Apparel Market (showrooms August 7 - 11, 2018; temporaries August 7 - 10, 2018). Atlanta Apparel's August 2018 Market is its most eventful of the year. From fashion shows to networking parties to major brand presentations all in one place, it is the must-attend buying event for top trends in Resort, Holiday and Children's styles.
For more information, and a full list of Market events and exhibitors, visit AmericasMart.com/world-of-prom.
ABOUT AMERICASMART
AmericasMart is the nation's only global wholesale marketplace housing the world's single-largest collection of home, gift, area rug and apparel merchandise. The largest of AmericasMart's 16 annual Markets and shows, The Atlanta International Gift & Home Furnishings Market and The Atlanta International Area Rug Market in January and July are the ignition switch for global retailing with buyers from every U.S. state and as many as 70 countries discovering product in more than 1,500 showrooms and more than 3,500 temporary exhibiting companies. ICON HONORS, the home and gift industry's most celebrated recognition program, is produced and staged annually by AmericasMart.
Located in downtown Atlanta, the AmericasMart complex contains more than seven million square feet of space. It's a huge global stage on which manufacturers, designers and sales representatives unveil new lines, launch new designs and introduce new categories – all for the benefit of buyers seeking all that is fresh and first in the home, rug, gift and apparel arenas. For more information, please visit http://www.AmericasMart.com. Follow us @AmericasMartATL or @atlantaapparel.
###