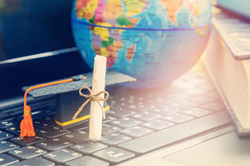 It's been a pleasure watching all of our graduating students excel in the online school model and pursue their unique passions, and I wish them all the best in their future endeavors.
COLUMBIA, Md. (PRWEB) June 20, 2019
International Connections Academy (iNaCA), a U.S.-based accredited virtual private school, honored a record 145 graduating high school seniors from the U.S. and abroad. Friends, family, teachers and administrators tuned in to the virtual graduation ceremony to celebrate the accomplishments of this impressive senior class.
The Class of 2019 graduates are as diverse in their geographies as they are in their plans for the future. In addition to the United States, graduates represented the countries of Belgium, Japan, Saudi Arabia, Spain, and several others. Of the group, 59 percent plan to attend a two or four-year college or university, 34 percent plan to begin working, while others will continue to athletic or artistic pursuits. Student scholarships totaled more than $3.5 million, with recipients pursuing degrees at esteemed universities including The Julliard School, University of Notre Dame, University of Maryland, University of Illinois, and more.
Valedictorian of the 2019 graduating class is Maxine Weatherby, a competitive figure skater from Boca Raton, Florida who came to International Connections Academy more than seven years ago seeking flexibility with her school schedule to spend an adequate amount of time practicing her craft. Now that she has completed high school, Maxine plans to continue to pursue her ice dancing duo training during a gap year before she resumes her academic pursuits in higher education.
"International Connections Academy enabled me to pursue my dreams as a figure skater while still achieving academically," said Weatherby. "The positive environment, flexibility to work around my busy schedule, and competitive coursework are just a few of the many benefits of being an iNaCA student."
Another outstanding graduate was MacKenzie Haarlow, who joined Connections Academy in middle school in search of a more personalized learning format. During her time as a student, she competed and placed in the top five at several Miss America and Miss USA pageants. In addition to using the pageants as a platform for spreading anti-bullying awareness, MacKenzie has spoken with hundreds of students about the harmful effects of bullying and amplified the message through her social media campaign #WeightItBeforeYouSayIt.
"Maxine and MacKenzie are two great examples of students who are thoughtfully motivated both in and out of the classroom, like so many in this year's graduating class," said Hannah Rinehart, School Director at International Connections Academy. "It's been a pleasure watching all of our graduating students excel in the online school model and pursue their unique passions, and I wish them all the best in their future endeavors."
iNaCA currently serves more than 1,000 students around the world who learn from home or anywhere there is an internet connection. Certified teachers and supportive counselors provide one-on-one attention and guidance through the college application process, leading to acceptances at many exceptional schools. iNaCA students may tailor their schedules to accommodate exam preparation and extracurricular activities, and take advantage of innovative electives and programs including Career Technical Education offerings, world languages and AP courses.
Enrollment is currently open for the 2019-2020 school year. Interested families can learn more by attending a virtual information session.
About International Connections Academy
International Connections Academy (iNaCA) is an accredited, online private school serving students in grades K–12 throughout the United States and abroad. Recognizing individualized instruction as the key to student academic and personal success, iNaCA's highly trained, certified teachers offer instruction tailored to each student's strengths and challenges using an award-winning computer-based curriculum, real-time instruction, and time-tested course materials from leading publishers. In 2019, iNaCA served students in the US and 57 countries. International Connections Academy is part of the global learning company Pearson. For more information, visit http://www.InternationalConnectionsAcademy.com.