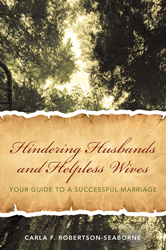 OLNEY, Md. (PRWEB) November 10, 2021
The state of marriage is in crisis mode with roughly half of all marriages today ending in divorce. While working throughout ministries, author Carla F. Robertson-Seaborne continuously witnessed failed marriages and wives and husbands looking to grow with God due to their situations. Robertson-Seaborne has written, "Hindering Husbands and Helpless Wives: Your Guide to a Successful Marriage" to bring restoration and hope to men and women in marriages.
Throughout this faith-filled guidebook, Robertson-Seaborne enlightens readers' understanding of marriage through God. The book focuses on renewing the mind for transformation, being able to love again, making better decisions that create good results, changing the course of one's life by submitting to the word of God and lastly, learning to forgive oneself and the power of prayer. The tools presented will help guide readers through their journey into marriage from God's perspective and are meant to encourage individuals before marriage and for those who are currently married.
"The book's purpose is to enlighten those that are not aware of what God requires of us as a male and female in true holiness," said Robertson-Seaborne. "For the fear of the Lord is the beginning of wisdom. The goal is to know how to conduct ourselves before God according to the word of God."
The book will help individuals solve marital problems, educate and prepare them to improve their marriage. In the end, readers will discover there is much hope for marriages today and how they can flourish by living according to the will of God. It is Robertson-Seaborne's hope that her message will help to restore, rebuild and fulfill God's purpose and hope in marriages and families.
"Hindering Husbands and Helpless Wives: Your Guide to a Successful Marriage"
By Carla F. Robertson-Seaborne
ISBN: 9781664240223 (softcover); 9781664240230 (hardcover); 9781664240216 (electronic)
Available at Amazon, Barnes & Noble and WestBow Press
About the author
Pastor Carla F. Robertson-Seaborne was a model until God saved her and asked her to model for him. Now, she is an International Evangelist with the Pillar of Intercessory Ministries International. Robertson-Seaborne has led thousands of souls to Christ with the Word of God. She has established ministries for the glory of God, taking in families and established ministries all over the world for the kingdom of God. Robertson-Seaborne gives Jesus Christ all the glory and praise. To learn more about the author, please visit http://www.hinderednomore.com.
General Inquiries, Review Copies & Interview Requests:
LAVIDGE – Phoenix
480-306-6597
mbowman@lavidge.com