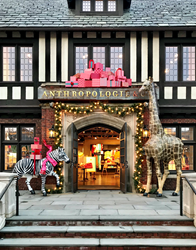 "Anthropologie brings a dynamic new presence popular among locals and visitors alike, and speaks volumes about Downtown Napa's appeal to retailers, especially during these trying times," said Todd Zapolski, Managing Member, Zapolski Real Estate
NAPA, Calif. (PRWEB) December 17, 2020
Zapolski Real Estate and Trademark Property Company today announced that First Street Napa is growing its tenant list with the addition of popular international lifestyle retailer Anthropologie, coming mid-2021 to anchor 7,000 square feet within the first floor of the historic Gordon Building in the heart of Downtown Napa.
"Anthropologie brings a dynamic new presence popular among locals and visitors alike, and speaks volumes about Downtown Napa's appeal to retailers, especially during these trying times," said Todd Zapolski, Managing Member, Zapolski Real Estate. "Interest for leasing at First Street Napa remains strong, and we are excited to welcome this stellar retailer to the iconic Gordon Building, an award-winning, distinctive historic venue within our First Street Napa development property."
Fully renovated and on the National Register of Historic Places, The Gordon Building is a two-story, 20,000 square foot building originally constructed in 1929 with an addition in 1935. It is a handsome example of Spanish Colonial Revival styling with Spanish Renaissance details. In a partnership led by Zapolski Real Estate and Trademark Property Company, the building was acquired on November 1, 2013 and an extensive historic rehabilitation of its façade, lobby, interior and structural elements was completed in early 2020.
First Street Napa has opened more than 37 retail and restaurant spaces since October 2017, including 15 new brands in 2020 that feature multiple first-to-market, smaller independent specialty merchants and local multi-generational natives offering unique new retail concepts and experiences. These fresh boutiques offer a wide-ranging mix of artisanal products, gift items, children's clothing, premium denim, home and garden furnishings, and local designer pieces that perfectly complement an internationally renowned lifestyle banner like Anthropologie.
"During a year of unprecedented challenges, First Street Napa has continued to move forward with exciting growth and change," said Zapolski. "Our community has grown together and significantly over the past few months. We've had 15 new tenants sign in 2020, and 10 retailers and tasting rooms have opened since August. We are thrilled to take this momentum into 2021 with the addition of Anthropologie mid-year."
Anthropologie will be located at 1146 First Street Napa. Building plans are underway for review and approval by city authorities, targeting approvals and construction to support a Summer 2021 opening. To learn more about Anthropologie, please visit http://www.anthropologie.com.
About First Street Napa
First Street Napa is a 325,000-square-foot mixed-use development and artisan collective spanning 3 city blocks in the heart of downtown Napa and featuring space for 45 fashion and specialty retailers, restaurants, wine offerings, creative office spaces, and the boutique Archer Hotel Napa. First Street Napa's distinctive retail, agrarian landscaping, approachable dining, and wine country charm make the destination unmistakably Napa. First Street Napa brands opening in 2020 include: The Bennington Napa Valley, California Brandy House, Cupcake, I-ELLE, Milo & Friends, Habituate Lifestyle + Interiors, Honey Whiskey Boutique, C'est La Paire, Copperfield's Books, Napa Valley Welcome Center, Riza Plants, Tay & Grace and PAINT Nail Bar. First Street Napa is also home to Archer Hotel Napa, Brown Estate Wines, Charlie Palmer Steak Napa, Compass Realty, Compline wine bar + restaurant, CYCLESOCIETY, Eiko's Sushi, John Anthony Family of Wines, Kalifornia Jean Bar, lululemon, Macbella, Makers Market, Mayacamas Downtown, Mecox, Napastäk Napa Valley, Napa Valley Jewelers, Overland, Silicon Valley Bank, Sky & Vine Rooftop Bar, State & First, and the Wayfarer, Wade Cellars and Newfound Wines office. For more information, please visit firststreetnapa.com and follow along on @FirstStreetNapa on Facebook, Instagram and Twitter.
About Anthropologie
A unique lifestyle brand, Anthropologie is in constant conversation with our thoughtful, creative-minded community, and we take pride in our connection with individuals who prioritize self-expression and are in active pursuit of inspiration. We are committed to exceeding our customer's expectations in un-expected, personalized ways. Over the years, our product offering has expanded to encompass apparel, shoes, accessories, activewear, bridal (through our sister brand BHLDN), beauty, wellness, furniture, home décor, garden (through our sister brand terrain), and so much more, the majority of which is available only at Anthropologie. Founded in 1992, Anthropologie now ships to over 100 countries (through http://www.anthropologie.com) and operates more than 200 stores around the world.