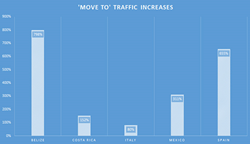 "Americans are looking to escape. First, there's the uncertainty surrounding the election, which drives people to consider a 'Plan B' should their preferred candidate lose. We saw this same trend in 2016, though to a lesser degree."
BALTIMORE (PRWEB) July 22, 2020
Since May 2020, International Living has seen a massive 504.97% surge in traffic to its "How to Move Out of the U.S." coverage, which identifies the steps for successfully planning a move.
"Americans are looking to escape. First, there's the uncertainty surrounding the election, which drives people to consider a 'Plan B' should their preferred candidate lose. We saw this same trend in 2016, though to a lesser degree," says Jennifer Stevens, Executive editor, International Living.
"This year, in addition, the pandemic has created huge financial challenges for millions of people whose jobs have evaporated. Worried about staying afloat in the States, it stands to reason that they're looking right now to explore good-value places abroad where their dollars will stretch further.
"Plus, it's clear other countries have handled the COVID-19 situation better than the U.S. has. They are now opening up again while many parts of the U.S. seem headed for a second shutdown. I think that makes people pause and consider: Where would I rather be next time something like this happens? What places seem to have their act together?"
Though Americans face travel restrictions at the moment, eventually those will lift.
People searching for move-overseas information seem to be using this time at home to investigate their options. In greater numbers, they're using search terms like, "moving out of the U.S.," "I want to move out of the U.S.," "moving out of America," "how to leave America," and "leaving America"—with the top search volume coming under the phrase "how to move out of the United States."
International Living has seen a spike in interest in "move to" specific countries as well, among them Belize, Spain, Mexico, Costa Rica, and Italy with traffic up as much as 798.01% over the last three months.
In the best-value places abroad, expats are able to lower their cost of living but raise their quality of life.
"The bang for buck that can be had in some places overseas is really extraordinary," says Stevens. "On a budget that would have you living hand-to-mouth in the States, you could live extremely well in a place where health insurance can cost less than $1,000 a year, you could have a housekeeper help you out three days a week for $135 a month, and rent on a furnished two-bedroom home could be $750 or even less.
"People may be seeking information on moving abroad because they feel pushed to do so right now, but once they see how far their dollars can stretch, I predict they'll feel encouraged and excited by the prospects they have."
Why Move to Belize?
International Living has seen a whopping 798.01% increase in traffic to its "Move to Belize" page since May 2020.
Belize is a barefoot nirvana. It's hard to put its charm into words, but the best description might include the phrase "rustic paradise."
From its secluded beaches to its steamy rain forests, Belize is a country of diverse natural beauty. Its slow pace of life makes it a popular tourist destination, and the cost of living remains low. For the more adventurous traveler, activities can include a trek into the jungle in search of Maya ruins, spotting parrots, toucans, and maybe even a jaguar along the way.
Laura Diffendal, IL Belize Correspondent, moved to Belize in 2014 from Cleveland, Ohio. "The Belizean culture, I found, is somewhat like the Midwest culture that I came from," she says. "There's a lot of value placed on hard work, modesty, grit, resilience, and leaving things better than you found it. I spend most of my time right now on the island of Ambergris Caye, which is known as the very fun, energetic Jimmy Buffett Island. And I also spend time in Placencia which is sort of a quieter, bohemian place, much calmer and much less crowded, a lot more like tranquil, open beaches."
A couple living and renting on Ambergris Caye can live well on a monthly budget from $2,875.
Why move to Spain?
International Living has seen a 655.16% surge in traffic to its "Move to Spain" page since May 2020.
Folks dreaming of a romantic, affordable European lifestyle, are looking at Spain. Western Europe's second-largest country, Spain offers fantastic variety in terrain, culture, and lifestyle. The country has nearly 3,100 miles of coastline, and much of it is beach.
You'll also find a lively, outgoing lifestyle and some of the best food and wine around. In Spain, life is meant to be enjoyed, and hanging out is an art. Even better, it all comes at an affordable price: Spain has one of the lowest costs of living in Europe.
"I've never been happier," says Marsha Scarborough, IL Spain Correspondent who lives in Madrid, Spain. "I have so many friends, young people who think I'm really interesting. My social life is on fire. I go dancing, we go out for wine and drinks, and go on picnics. It's been a great adventure. I don't think that that would have happened if I stayed in the U.S."
A couple can live the good life in Spain in a mid-sized city like Alicante on a monthly budget from $2,409.
Why Move to Mexico?
International Living has seen a 311.37% increase in traffic to its "Move to Mexico" page since May 2020.
As many as 1 million U.S. and Canadian citizens already call Mexico home, with more clearly looking to join them.
Thanks to Mexico's large size, varied geography, and affordable real estate, prospective residents are spoiled for choice among silver-mining towns, fishing villages, beach retreats, and cosmopolitan cities.
"Another big benefit of living in Mexico is the lower cost of living," says Jason Holland, IL Roving Latin America Editor, who lives in San Miguel de Allende with his family. "You can get by here on much less money than you would in the U.S. We have a much bigger house than we would have been able to afford at home. We enjoy having great meals out and paying about half to maybe a third of what we pay for a similar meal in the U.S. So that makes date nights very doable in Mexico."
A couple can live well in the Caribbean beach town of Akumal, Mexico, south of Cancun, for instance, on a monthly budget from $2,240.
Why Move to Costa Rica?
International Living has seen a 152.98% increase in traffic to its "Move to Costa Rica" page since May 2020.
The country's political stability and low-key profile are proving to be increasingly strong draws for expats.
Of course, there's no lack of drama in Costa Rica's landscape—you've got jaw-dropping expanses of coast, jungles rich with everything from spider monkeys and sloths to scarlet macaws and quetzals, gorgeous lakes and volcanic valleys.
Ticos (the moniker Costa Ricans give themselves) have established one of the world's most stable democracies. The country dissolved its standing army in 1949 and the reallocated funds are spent on education, healthcare, and pensions instead of the military.
"I had the travel bug from an early age, from studying overseas to extended vacations with my family, and I really wanted to embrace a new culture," says Kathleen Evans, IL Costa Rica Correspondent who moved to Tamarindo, Costa Rica. "My husband, Steve, and I read International Living magazine diligently, and whenever we traveled, we checked out the various countries it mentioned.
"We made a list of criteria about what's important to us and what we want our new home country to be like—I wanted to hear and see the ocean every day, I never wanted to wear a coat again and we also wanted a country with a stable democracy and an educated population close to home in the U.S. Over time, checking various countries, we kept coming back to Costa Rica and we realized that it checked every possible box for us."
A couple a can live well in Costa Rica's cooler-weather Central Valley in a town like Atenas, for instance, from $1,518 a month.
Why Move to Italy?
International Living has seen an 80.73% increase in traffic to its "Move to Italy" page since May 2020.
Italy provides the very definition of the sweet life—from romantic cities and timeless hill towns, to rivetingly beautiful coastline and vineyard-covered countryside, Italy has so much to offer. Expats in Italy say they love not only the art, culture, impressive architecture, world-renowned food, and easy access to the rest of Europe, but also the slower pace of life and the culture that prioritizes family and friends over work and to-do lists.
"We weren't unhappy in our lives in America," says Valerie Schneider, IL Italy Correspondent. "We were living in New Mexico, a little bit north of Albuquerque, with a very nice house and a nice mortgage to go with it. We had good jobs… and a good level of stress to go along with that.
"We started taking trips to Italy. We started talking about it more seriously, spending time in one place, and evaluating what it was really like to live in a town in Italy. And we really liked what we saw. We liked the culture, the pace of life, the emphasis on social interaction, and how people gather in the piazza, and we liked the food, of course. But for me, it's really the people. The Italian people are warm, welcoming, and friendly, and that is really what won us over and what keeps us here."
A couple can live comfortably in the southern region of Puglia, for instance, in a city like Lecce (the "Florence of the South") on a monthly budget from $1,398.
The International Living website has seen similar increases in traffic to other country-specific pages such as "Move to Portugal," "Move to Vietnam," "Move to Thailand," and " Move to Uruguay"—an indication that there is a strong movement occurring across the States with people actively looking to move out of the United States of America.
The full article with details on the necessary steps to move out of the U.S. can be found here: How to Move Out of the U.S.
Members of the media have permission to republish the article linked above once credit is given to Internationalliving.com
Further information, as well as interviews with our experts for radio, TV or print, are available on request. Photos are also available.
For information about InternationalLiving.com content republishing, source material or to book an interview with one of our experts, contact PR Managing Editor, Marita Kelly, +001 667 312 3532, mkelly@internationalliving.com
Twitter: @inliving
Facebook: https://www.facebook.com/International.Living/
About International Living
Since 1979, InternationalLiving.com has been the leading authority for anyone looking for global retirement or relocation opportunities. Through its monthly magazine and related e-letters, extensive website, podcasts, online bookstore, and events held around the world, InternationalLiving.com provides information and services to help its readers live better, travel farther, have more fun, save more money, and find better business opportunities when they expand their world beyond their own shores. InternationalLiving.com has contributors traveling the globe, investigating the best opportunities for travel, retirement, real estate, and investment.