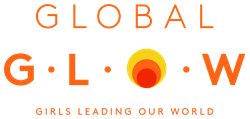 NEW YORK (PRWEB) July 21, 2020
Global G.L.O.W., an international nonprofit organization operating in 23 countries, including across the U.S., dedicated to equipping girls with the skills and resources they need to strengthen themselves and their communities, will this month begin the initial global roll out of its new Healthy Glow program. Healthy Glow is a 13-week comprehensive health and reproductive health program providing girls with a safe space to explore, discuss and learn about their physical, mental and social wellbeing needs through knowledgeable and trusted mentors. Healthy Glow aims to give young girls this critical health information so they are best armed to advocate for themselves, remain in school and make positive and informed choices throughout their lives.
The initial global roll out of Healthy Glow will begin in July 2020 and continue throughout the year with in-person participation from over 815 girls, while providing virtual means for engagement in any communities where COVID-19 restrictions do not allow for in-person programming. Healthy Glow will be implemented alongside partner organizations in nine countries including Foundation TOYA (Haiti), Fundación Bibliotec (Colombia), Friends of Thai Daughters (Thailand), World Assistance for Cambodia (Cambodia), Healthy GLOW Kenya (Kenya), Health Aid for All Initiative (Nigeria), League of Young Female Leaders (Ghana), Girls Athletic Leadership School (United States) and the Miele Center (Kenya).
"Healthy Glow's primary goal is to give girls the tools and information they need to be able to make the best choices for themselves, ultimately keeping them enrolled in school and able to pursue their dreams," said Crystal Sprague, Executive Director of Global G.L.O.W. "Girls face tremendous challenges when they don't have support to explore topics like relationships, boundaries and questions about their bodies. By focusing our program on physical, social, mental and reproductive wellbeing, girls will be better equipped to face the everyday struggles they experience in their own schools and communities and, as a result, advocate for what they need to thrive."
Developed through Global G.L.O.W.'s innovative, girl-led model, Healthy Glow was first ideated by the girls in Global G.L.O.W. programs themselves, who expressed the deep need for overall health and reproductive health-based education in their communities. Based on these learnings, Global G.L.O.W. developed the 13-week program for girls ages 11-14, providing comprehensive health and sex education rooted in evidence-informed materials. Building on the reproductive health component of the program, girls enrolled in the program will also be guided to develop self-advocacy skills and engage in community action that promotes wellbeing-seeking behaviors. In light of the current COVID-19 pandemic, Healthy Glow has also been expanded to include programmatic sessions focusing on the effect of the pandemic on the program's participants and their communities.
"Upon hearing from girls about their desire to learn more about their own health and wellbeing, our team at Global G.L.O.W. moved swiftly to meet this essential need by establishing a program for foundational learning," said Kylie Schuyler, Founder and Executive Chairperson of Global G.L.O.W. "Global G.L.O.W. has always operated with the core belief that girls know what girls need. We are dedicated to bringing this new, in-depth, life-changing program to girls worldwide."
After completing program implementation in the first 9 countries, Global G.L.O.W. will expand the program to all their current partners in the 23 countries where they operate and continue to scale it to include new partners and locations. For more information on Healthy Glow, please visit: http://www.globalgirlsglow.org/healthy-glow.
For media inquiries regarding Global G.L.O.W., please contact Kaitlin Stewart Hollander at (212) 337-8870 or kaitlin@thetascgroup.com.
About Global G.L.O.W.
Global G.L.O.W. (Global Girls Leading Our World) is a 501(c)(3) organization working to accelerate girls' greatness today so that they can build a better tomorrow. Founded in 2012 and operating in 23 countries, Global G.L.O.W. empowers young women and girls worldwide to self-advocate, strengthening themselves and their communities. Through its innovative girl-led model, Global G.L.O.W. works collaboratively with girls and communities to develop unique programs that address the most critical barriers affecting girls globally. Global G.L.O.W. incubates, operates and accelerates programming across the impact areas of educational attainment, self-advocacy, community impact, health and well-being and economic opportunity. Working alongside grassroots organizations, key global stakeholders, NGOs and educational institutions, Global G.L.O.W. activates girl-driven change through its programming and partnerships. For more information, visit http://www.globalgirlsglow.org or follow Global G.L.O.W. on Facebook, Twitter and Instagram.