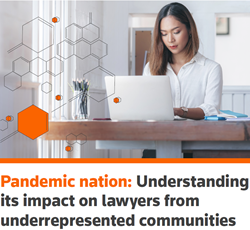 NEW YORK (PRWEB) May 13, 2021
In a revealing survey produced by the Association of Corporate Counsel Foundation (ACCF), the Association of Law Firm Diversity Professionals (ALFDP) and Thomson Reuters Institute, more than 400 lawyers from across the globe gauge whether steps taken to decrease barriers to making the legal industry more diverse are truly having a positive impact on lawyers' careers. The collaborative survey, "Pandemic Nation: Understanding Its Impact on Lawyers from Underrepresented Communities," was conducted earlier this year with legal professionals both in law firms and in-house legal departments. Released today, the results underscore the impact that COVID-19 has had on women lawyers and lawyers of color, in particular, including:

The top three barriers to career progression due to COVID-19 included lack of in-person contact, a heavy workload, and caregiver responsibilities. Of all the attorneys surveyed, lawyers of color felt all three much more acutely.
70% of women reported the pandemic had a negative impact on their well-being, compared to 54% of men.
The key findings also illustrate the challenges associated with career development and progression for underrepresented communities within the legal industry during the pandemic, and specifically:

A greater number of women lawyers and lawyers of color expressed concern around inconsistency between what an organization says and what it does.
Diversity leaders at firms reported higher levels of awareness surrounding initiatives aimed at increasing representation than non-diversity leaders, which demonstrates there is a lack of awareness of organizational investments across diversity, equity and inclusion.
Respondents indicated the most effective solutions to address structural barriers include a formal sponsorship program and a 30% target for diverse candidates to fill open roles and representations on key committees.
Respondents reported that action may be falling short and that legal employers were not investing enough in initiatives that would accelerate diversity at all levels.
"Our goal is to make the industry a more diverse, inclusive and accepting place that is representative of the society it serves; and the critical insights revealed in this survey help us inch closer to that goal by gaining an unvarnished assessment of the work that is ongoing and the work that still needs to be done," said Lia J. Dorsey, President of the ALFDP and Chief Diversity, Equity, & Inclusion Officer at Ogletree Deakins. "Given all that 2020 laid bare, including glaring racial injustices, disparities and inequities on top of a global pandemic that disproportionately impacted communities of color, this survey is foundational to understanding how we can best continue our work of making the legal profession a more diverse, inclusive and equitable place."
Further, the survey results found that 43% of those identifying as part of an underrepresented race and / or ethnicity found development and progression in the legal industry more difficult, compared to 24% of white lawyers. In addition, the results indicate that women experience bias and micro-aggressions at work more often than men, and lawyers of color are even more likely to have experienced bias at work.
"Knowing how and if solutions to these barriers are working is critical to increasing retention and advancement of these professionals in these underrepresented communities within the legal industry," added Jennifer Chen, Director of the ACC Foundation. "Now armed with this important information, we can make strides across the industry to eliminate those barriers at all stages of one's career."
The anonymous cross-regional survey was distributed through approximately 30 partner organizations, individual firms, bar associations and other legal groups reaching attorneys in law firms, in-house legal departments and the public sector in North America, Europe and Asia.
About ACCF: The ACC Foundation is a 501(c)(3) non-profit organization which supports the effort of the Association of Corporate Counsel, serving the needs of the in-house bar through the dissemination of research and surveys, leadership and professional development opportunities, and support of DEI and pro-bono initiatives. With a global reach and ACC's dedicated research department, the ACC Foundation is in a unique position to conduct quality surveys and gather meaningful research in a timely fashion. With this knowledge, in-house counsel are better poised to understand best practices among corporate legal departments. For more information, visit https://www.acc-foundation.com.
About ALFDP: Founded in January 2006, the Association of Law Firm Diversity Professionals (ALFDP) is a not-for-profit association of law firm professionals working in the area of diversity and inclusion. ALFDP's mission is to act as a catalyst for the advancement of diversity and inclusion in the legal profession through our collective knowledge, vision, expertise and advocacy in the arena of law firm diversity. As a collaborative organization, we work towards the common goals of advancing diversity and inclusion within our own organizations and within the legal profession as a whole by sharing important information and experiences and learning from one another. For more information, visit https://alfdp.com/.
About Thomson Reuters: Thomson Reuters is a leading provider of business information services. Our products include highly specialized information-enabled software and tools for legal, tax, accounting and compliance professionals combined with the world's most global news service – Reuters. For more information on Thomson Reuters, visit tr.com and for the latest world news, reuters.com.
###