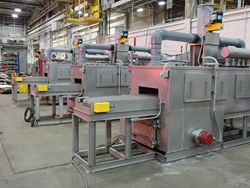 "By working together with the customer, we were able to deliver parts washers that exceeded expectations. The washers are now installed and working well in the new robotic machining center."
MILWAUKEE (PRWEB) October 01, 2020
International Thermal Systems (ITS), a global manufacturer of industrial washers and ovens recently shipped 4 custom conveyor washers to a US manufacturer of automotive assemblies for large commercial vehicles. The customer was developing a new machining and weld center that consisted of four separate lines feeding two automated weld centers. This industry leader provides high quality parts to automotive and transportation related manufacturers and requires vendors to deliver best in class equipment that meets their stringent specifications.
"The specification required the parts to be chemical free and 100% dry before moving to the welding center. If they were not, they could be damaged during the welding process. ITS engineered the conveyor washers with a spray nozzle pattern that covered multiple parts sizes and geometries, and with an air flow pattern that dried the parts completely", explains Shawn Fields, Sales Manager. "By working together with the customer, we were able to deliver 4 parts washers that exceeded expectations. The washers are now installed and working well in the new robotic machining center."
ITS works closely with our customers to engineer and manufacture equipment that is built to last. To help customers start the process of selecting an industrial parts washer, ITS created a washer selection calculator. The online parts washer calculator determines if the user's production application requires a batch washer or a conveyor washer and the calculator will also select the best sized machine based on application requirements. TruClean washers are offered in 12 standard sizes for basic applications. For more complex cleaning requirements, ITS offers specialized consultation in the selection of custom-engineered washer solutions.
To help navigate the process of selecting an industrial parts washer, the ITS team has created a guide that is available for download.
For more information about International Thermal Systems and our industrial parts washer capabilities, visit http://www.internationalthermalsystems.com.
About International Thermal Systems
International Thermal Systems, LLC (ITS) is a global manufacturer of thermal processing and washer systems. ITS manufactures quality equipment that delivers innovative solutions for the automotive, aerospace, power generation, battery, foundry, metal packaging industries, and more. Headquartered in Milwaukee, Wisconsin, ITS has manufacturing facilities in both Milwaukee and Shanghai, China.