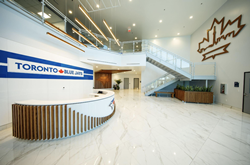 TAMPA. Fla. (PRWEB) March 25, 2021
Internationally recognized, award-winning, local artist Ya La'Ford was commissioned by the Toronto Blue Jays to empower its new state-of-art Player Development Complex in Dunedin, Florida with inspirational art that adds a sense of community to the design.
La'Ford's creative expression is represented in two installations that challenge conventional thinking through her use of a wide range of media, including sculpture, installation, and accent lighting.
"It is a true honor for me to design and create art pieces for the Toronto Blue Jays Player Development Complex. The artwork installed explore the themes of connection between competitive athleticism, unconventional art, culture and performance. Believing in the emotional impact of line, I intended to create visual elements that inspire people to experience a diverse range of emotions based on shape, pattern, form, depth, and movement of the line and its nature," says La'Ford.
Residing on a 65-acre site in Dunedin, the Player Development Complex will be a year-round base of operations for the Toronto Blue Jays. Unveiled in February 2021, the best-in-class facility includes six full fields, two half fields, 20 gang mounds, 12 covered batting cages, a covered turf practice field and a speed hill 20 feet tall, and 168 feet long. The 115,000 square-foot building houses a two-floor indoor-outdoor weight room, Major League-caliber clubhouse, three Minor League locker rooms with 219 total lockers, a hydrotherapy room with a custom pool, kitchen, sports science labs for pitching and movement research, work rooms and an on-site barber shop.
"My mission is to create art and experiences that incentivize people to revolutionize their perceptions of the social, cultural, and historic contexts of human journeys. Artwork like the ones I developed for the Toronto Blue Jays makes me believe that I am supported and my messages are getting conveyed," added La'Ford.
###
About Ya La'Ford
Ya Levy La'Ford, was born in New York and resides in historic Kenwood. She earned a bachelor's degree from Florida State University, a Juris Doctor from University of Florida, and a Masters in Fine Arts from Art Institute of Boston. La'ford maintains her studio practice in St. Petersburg, Washington, DC, and New York. La'ford is a professor, visual painter, installation artist, and muralist. As a first generation American, she moves between her Jamaican heritage and vulnerable communities to try to find a universal language. Her art aims to mobilize citizens to challenge conventional thinking and to understand the intrinsic value of exercising creative license within their communities, and to explore art as a lifelong treasure. Ya La Ford's mission is centered on creating art and experiences, which exists to immeasurably transform and revolutionize the social, cultural and historic contexts of creative expression within the human journey. For more information on the artist, please visit http://www.yalaford.com
Follow Ya La'Ford on Social Media:
https://www.facebook.com/yalaford https://www.instagram.com/yalaford