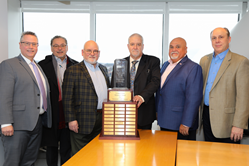 "There is no one in the industry more deserving of this honor than Paul," said Hernan Olivas, president and chief executive officer for ONEIL.
MIAMISBURG, Ohio (PRWEB) July 29, 2020
Paul Haslam, Principal S1000D & S-Series IPS Specifications Expert for O'Neil & Associates (ONEIL), earned international recognition as a recipient of the Aerospace Industries Association's (AIA) prestigious Leonard Ross Memorial Award for Achievement. The award is given to an individual who has exhibited individual excellence, outstanding performance, and long-term achievement in product support on behalf of the aerospace and defense industry.
Haslam, involved in the production and continuance of the S1000D specification since 1999, has worked to improve the entire suite of S-Series ILS specifications for U.S. and international adoption. This award recognizes his commitment, extensive knowledge, and focused strategy to bring aerospace specifications into alignment.
"There is no one in the industry more deserving of this honor than Paul," said Hernan Olivas, president and chief executive officer for ONEIL. "He has worked tirelessly for nearly 16 years to coordinate, educate and liaison with senior staff of the U.S. armed services for the widespread adoption of specifications, and his work has created countless positive economic, technical and engineering outcomes. We are proud to call him one of our own and celebrate this significant achievement alongside him."
Due to COVID-19, AIA was unable to present the award in person. But Haslam received a personalized plaque and his name was inscribed on the Len Ross trophy alongside names of other recipients who came before him.
"Paul puts his whole heart into his work, demonstrating the ideals Len Ross celebrated when he envisioned this award," said Joe Spruill, CAPT, SC, USN (Ret.), of Lockheed Martin, and Chair of the Aerospace Industries Association Product Support Committee. "His shepherding of the Integrated Product Support Standards has truly resulted in improved and more affordable sustainment for the warfighter."
In 1989, Leonard Ross, former vice chairman of the AIA Product Support Committee, established the exceptional service award as a peer recognition of long-term achievements for past and present members of the committee. Upon his passing, the award was renamed to honor him.
About O'Neil & Associates, Inc.
O'Neil & Associates, Inc. (ONEIL) is an employee-owned company that develops technical publications, training and related materials for manufacturers to help them show their customers how to operate, maintain and repair their products. In addition to providing services for developing these materials, ONEIL offers related technology solutions for creating, managing and delivering their clients' technical information. ONEIL serves clients in the commercial, aerospace and government markets with offerings like Interactive Electronic Technical Manuals (IETMs), Web-Based Environments, Intrusive Diagnostic Systems, e-Learning, training, Content Management Systems and traditional paper manuals.
For more information about ONEIL products and services, visit http://www.oneil.com
About Aerospace Industries Association
For over 100 years, the Aerospace Industries Association (AIA) has served as an advocate, resource, and convener to shape policy, shed light on the industry's impact, and lay the groundwork for its future. CEO-level officers from across our more than 300 member companies guide these efforts, strengthening the industry's ability to effectively support America's national security and economy. Together, we advocate for effective federal investments; accelerated deployment of innovative technologies; policies that enhance our global competitiveness; and empower a capable and diverse 21st century workforce. For more information, visit http://www.aia-aerospace.org.