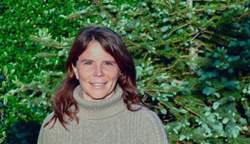 "A synthetic forest may not ever be as pretty as a real one, but it could just enable us to preserve not only the Amazon, but ... all of our future generations and modern civilization." - Jennifer Wilcox, James H. Manning Professor of Chemical Engineering at WPI
WORCESTER, Mass. (PRWEB) August 01, 2018
Jennifer Wilcox has been named the James H. Manning Professor of Chemical Engineering at Worcester Polytechnic Institute (WPI). Wilcox joins WPI from the Colorado School of Mines, where she was an associate professor and interim head of the Department of Chemical and Biological Engineering. Her research focuses on the mitigation of atmospheric pollution from fossil fuel combustion, as well as on developing methods for capturing and storing carbon dioxide.
Specifically, Wilcox, who was a faculty member at WPI earlier in her career, explores methods for removing carbon dioxide (CO2), a gas that contributes to the greenhouse effect responsible for the Earth's rising average temperature, from power plant emissions and from the atmosphere through the use of "synthetic forests."
"We are thrilled that Jen Wilcox is coming back to WPI as our Manning Professor of Chemical Engineering," said WPI Provost Bruce Bursten. "Her research in carbon capture and mitigation is both fundamental and practical, and addresses one of the most important problems facing humanity. We look forward to the impact she will have on our students and our world as a member of our faculty."
Said WPI's Dean of Engineering Winston Soboyejo, "We are delighted to welcome Jennifer Wilcox back to WPI. She brings with her a wealth of experience and world class expertise that will have a major impact on our programs in the area of sustainability."
Noting that, as a result of fossil fuel use, atmospheric CO2 concentrations are higher today than at any time in the last 650,000 years, Wilcox has said that just focusing on preventing future CO2 emissions will not be enough to halt or reverse global warming. For such a reversal to be possible, it will be necessary to remove large quantities of CO2 from the atmosphere, something referred to as "negative emissions."
Wilcox has pointed out in a number of international media interviews—including stories in The Atlantic and The Economist—and more recently in an invited April 2018 TED talk, that pulling CO2 directly from the atmosphere and storing it is a difficult and energy intensive process, since the concentration of the gas in air (about 400 parts per million), though historically high, is 300 times lower than the levels found in power plant emissions.
Using a combination of modeling and laboratory experiments, Wilcox has been studying various adsorption- and membrane-based technologies that may be able to capture CO2 more effectively and efficiently, over a range of concentrations. In her TED talk, she noted that although trees—in particular, the lush rainforests of the Amazon—are effective at pulling CO2 from the atmosphere, they require significantly greater land area than the synthetic forests she envisions. These would be made of direct air contactors capable of capturing the scarce gas molecules, and then releasing them to be directly used or geologically stored. "A synthetic forest may not ever be as pretty as a real one," she concluded, "but it could just enable us to preserve not only the Amazon, but all of the people that we love and cherish, as well as all of our future generations and modern civilization."
Wilcox also studies methods for geologically storing captured CO2, as mineral carbonates, and gas shale and coal deposits. In other research, she explores methods for capturing trace metals, such as arsenic, mercury, and selenium, from fossil fuel emissions, in addition to design optimization of metallic membranes made from alloys of palladium to produce high-purity hydrogen for use both in on-board (long-haul trucks) CO2 capture and ammonia synthesis.
Her work has been funded by nearly $7 million in awards and gifts (including a prestigious CAREER Award from the National Science Foundation and funds from the Global Climate Energy Project, the Electric Power Research Institute, and the U.S. Department of Energy), and has resulted in more than 100 peer-reviewed journal articles. She is the author of Carbon Capture (Springer Publishing, 2012), the first engineering book and the first textbook on the subject.
Wilcox was selected to represent NSF as a "New Face of Engineering for 2006," which included being featured in USA Today. Her other honors include the American Chemical Society Petroleum Research Fund Young Investigator Award, the Army Research Office Young Investigator Award, the Air & Waste Management Association Stern Award (given annually for an outstanding paper published in the Journal of the Air & Waste Management Association), and selection as a member of the second cohort of the Department of Energy's Oppenheimer Energy Sciences Leadership Group. She is a member of the American Institute for Chemical Engineers, the American Chemical Society, the North American Membrane Society, and the Ninety-Nines (the international organization of women pilots), among other organizations.
She earned a BS in mathematics at Wellesley College, as well as an MA in physical chemistry and a PhD in chemical engineering at the University of Arizona, Tucson. Before joining the Colorado School of Mines in 2016, she was an assistant professor of energy resources engineering at Stanford University and an assistant professor of chemical engineering at WPI.
About the Manning Professorship
Wilcox is the third recipient of this endowed professorship, which was established in 1998 through a bequest from Frances B. Manning, widow of James H. Manning, Class of 1906. The previous recipient, Yi Hua "Ed" Ma, who earned an international reputation for his work on inorganic membranes, particularly novel palladium membranes for hydrogen separation, retired in 2015. James Manning, a civil engineer, became president of the international engineering and construction firm Stone & Webster and later served as president of Ulen & Co., senior partner of Manning & Co., and as a limited partner in N. A. Lougee & Co. Mindful of how student loans had made his own WPI education possible, he and Frances established and endowed the James H. Manning Scholarship Loan Fund at the Institute.
About Worcester Polytechnic Institute
Founded in 1865 in Worcester, Mass., WPI is one of the nation's first engineering and technology universities. Its 14 academic departments offer more than 50 undergraduate and graduate degree programs in science, engineering, technology, business, the social sciences, and the humanities and arts, leading to bachelor's, master's and doctoral degrees. WPI's talented faculty work with students on interdisciplinary research that seeks solutions to important and socially relevant problems in fields as diverse as the life sciences and bioengineering, energy, information security, materials processing, and robotics. Students also have the opportunity to make a difference to communities and organizations around the world through the university's innovative Global Projects Program. There are more than 40 WPI project centers throughout the Americas, Africa, Asia-Pacific, and Europe.
Contact:
Alison Duffy, Director of Public Relations
Worcester Polytechnic Institute
Worcester, Massachusetts
508-831-6656, amduffy@wpi.edu