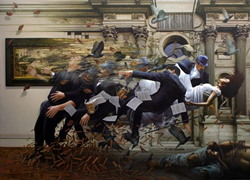 LOS ANGELES (PRWEB) November 14, 2018
The Art Renewal Center (ARC), a 501(C)(3) non-profit educational foundation dedicated to realist art and skill-based training techniques in the visual arts, is bringing the world renown ARC Salon Exhibition to the west coast. The show will consist of 89 Contemporary Realist works selected from over 3,750 entries from 69 countries. The most prestigious realist art competition in the Americas and perhaps the world, the International ARC Salon offers over $100,000 in cash awards, as well as international recognition through partnerships with prestigious magazines, galleries, and museums, including exhibitions and a strong online presence.
After its conclusion at the Salmagundi Club in New York City this past October, the exhibition is now on its way to Sotheby's Los Angeles (2029 Century Park E. #2950, Los Angeles, CA) from December 4—13, 2018. The Grand Opening reception will be on December 4th from 6pm—8pm. Entry is free. All press and public are welcome to attend. The ARC Salon will continue to be on display at Sotheby's Los Angeles from December 4th—December 13th, 2018 from 10am—5pm Monday through Saturday. This will be the ARC Salon's first year exhibiting in Los Angeles.
The final stop for the live exhibition will be at the MEAM Museum (C/ Barra de Ferro 5 Barcelona, Spain) from February 8—March 31, 2019 with the ARC Award Ceremony and Grand Opening on February 8th, 2019.
The Art Renewal Center's International ARC Salon Competition is known for not only recognizing work by nationally and internationally acclaimed artists, but also for discovering new and upcoming talent. Exhibiting artists include American artists such as Joseph McGurl, Benjamin Victor, Candice Bohannon, Julie Bell, Sadie Valeri, Steven Levin and Casey Childs, Swedish artist Nick Alm, Spanish Artists, Aurelio Rodriguez Lopez, Ruben Belloso Adorna and Mikel Olazabal, Argentinian painter, Alejandro Rosemberg, Jesser Valzacchi from Brazil, French artists, Joke Frima and Yoann Lossel, Philippe Attie from Haiti, Patricia Alonzo Diaz from the Dominican Republic, Randalf Dilla from the Philippians, Irish painter Molly Judd, Janne Kearney from Australia, Angus McEwan from England, Jun Liu, and Song Zhou from China and Katsu Nakajima from Japan as well as many others.
Approximately 50% of the works in the show are available for sale, and the other 50% are on loan from private and institutional collections. Now recognized as the largest competition dedicated to realism in the world, the exhibition associated to the competition brings together an eclectic grouping of works from different styles, themes, mediums, and world views; showing the rich cultural diversity that the world of 21st century realism has to offer.
Kara Lysandra Ross, Chief Organizer/Curator of the exhibition and Co-Chair/Chief Operating Officer of the Art Renewal Center, says, "Realism in the visual arts is something inherent to human existence. From the earliest beginnings of humanity, our species had an innate desire to depict the world around them and express what it is to be human through realistic imagery. From the first cave man drawings, to Ancient Rome and the High Renaissance, all the way through to the 19th century, realism was the chief form of artistic expression. There has been a shift back towards realist art in the past 30 years and it is an expanding international movement as this exhibition demonstrates. The Art Renewal Center promotes the idea that 21st Century Realism captures the contemporary way of life and is both self-explanatory and timeless. It is a unique form of communication that is universally understood by people around the world regardless of which languages they speak. This makes this form of art relevant for all humanity, now, and for generations to come."
To learn more about the exhibition, visit artrenewal.org/13thARCSalon/Home/Exhibition
To learn more about the Art Renewal Center, visit artrenewal.org/