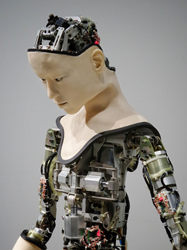 In 1983 there was almost a nuclear war because of a false alarm warning from Soviet military computers.
NEW YORK (PRWEB) January 23, 2019
Lounge Lizard is globally recognized as a top internet marketing company within the web design and development industry. Lounge Lizard's brandtenders are creative, tech-savvy, and passionate in developing innovative strategies that drive conversion for both startup and established clients of all industries, making them the "best of breed since 1998."
According to the Rand Corporation, AI could cause a nuclear war by 2040. That thought should have people concerned, and yet people are letting Alexa take over their house on a regular basis. While some might point to science fiction and say that it is just a concept used to write a good story, how can top minds in science all be wrong? Should we not be concerned about these warnings from people universally respected in their fields such as the late Professor Stephen Hawking or Elon Musk? Today the Internet Marketing Company, Lounge Lizard, predicts a war between AI and humans.
In movies such as "iRobot" or "Her", the Artificial Intelligence (AI) displayed is ridiculously sophisticated compared to current capabilities. Robots are depicted with abilities such as creative thinking, the ability to learn, and a general level of consciousness. This level of AI is called AGI, or Artificial General Intelligence, by experts in the field. There is also human-level AI, or HLAI, which is a level of intelligence between AI and AGI. Opinions vary about how close or far we are currently from attaining either HLAI or AGI, although one study from a recent HLAI conference found that 37 percent of those surveyed think HLAI will be created in the next 10 years.
That creation of HLAI is viewed by many as a problem. In 1983 there was almost a nuclear war because of a false alarm warning from Soviet military computers. The warning was incorrect, and Stanislav Petrov recognized this, preventing a catastrophe. Military applications of AI are concerning to many including Elon Musk who in 2017 joined with 115 other robotics experts to call for a ban on killer robots in an open letter to the United Nations.
It is not that the idea of artificial intelligence and bot-style programs shouldn't be used, but that there should be more thought placed on how they will be used along with a failsafe built to prevent a sci-fi movie like the Matrix becoming reality. For those who have not seen the movie the concept is that computers have taken over the planet after a devasting war versus humans and the machines farm humans for an energy source. Using AI to create autonomous weapons would create a new level in warfare that could be devastating to humanity.
There is also the concern of losing essential elements of what it means to be human. While using AI will amplify or increase human effectiveness, there is also a threat to autonomy. In medicine the ability of AI to diagnose and treat patients is viewed as a positive. Educational uses are also touted. However, the list of concerns related to the integration and increased use of bots and AI-styled machines is not small:

Loss of control – As processes are automatically performed based on data and algorithms, privacy and power of choice disappear resulting in less control.
Data abuse – AI tools are going to be in the hands of corporations and governments looking for either profits or power. Decisions being made will not always be based on values or ethics which is a concern as recent abuses by Facebook have already proven.
Job loss – Some jobs will completely disappear. While other jobs will be created in and around innovative technologies the offset of a technological revolution could widen economic divides.
Dependency – While technology does make aspects of life easier, at the same time it creates a dependence on technology and reduces survival, social, and cognitive skills. Consider how helpless people feel when they cannot access a smartphone.
The war we are predicting between AI and humans is one that will focus on solutions to perceived problems that will de-humanize us along with safeguarding ourselves from a technological takeover and that battle will be between the general population and the governments or corporations developing the AI. Collaboration, values, and people will need to be prioritized globally to ensure that the fears top minds in robotics and engineering do not come true. By collaborating globally and coming to common agreements for approaches to problems, maintaining control over complex networks, ensuring technology meets both social and ethical responsibilities, and prioritizing people, we can then win important battles and eventually the war.
Lounge Lizard Digital Marketing Agency is an award-winning, high-end design boutique specializing in website and mobile app development, UX/UI, branding, and marketing. This Long Island SEO Company excels in creating the ultimate brand strategy, fully loaded with expertly crafted visuals that work together to increase sales and effectively communicate a client's unique personality.
Media Contact: Ken Braun, Lounge Lizard, 631-581-1000, ken.braun(at)loungelizard(dot)com