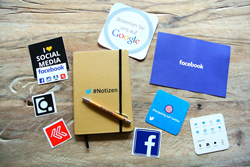 Key metrics help with understanding customers and planning future campaigns to generate the best results possible.
NEW YORK (PRWEB) January 21, 2019
Lounge Lizard is globally recognized as a top internet marketing company within the web design and development industry. Lounge Lizard's brandtenders are creative, tech-savvy, and passionate in developing innovative strategies that drive conversion for both startup and established clients of all industries, making them the "best of breed since 1998."
Social media metrics are invaluable to effective marketing. They allow marketers to update management about the effectiveness of campaigns, ROI, and social reach. Additionally, key metrics help with understanding customers and planning future campaigns to generate the best results possible. Today the Internet Marketing Company, Lounge Lizard, shares the Top Social Media Metrics for Marketing.
Top Social Media Metrics to Track:
Volume – The easiest metric to track is basic volume, which is a top of the sales funnel aspect to be aware of. This metric is more than followers, tweets, and posts; it is the scope of people talking about a brand at certain periods in time. Some platforms have built in measurement capabilities such as Facebook Insights. There are also useful software options for online reputation management such as Social Mention or SentiOne that can track, measure, and monitor social media. Once volume has been analyzed it will be apparent which days or times more people talk about a brand which makes those prime opportunities to post for higher engagement.
Reach – Reach is how far a social conversation circulates. This metric is often used as a denominator when calculating other metrics. For example, to determine the engagement percentage of something you would take all of the usable figures for clicks, replies, retweets, etc. and then divide that number by reach. Strong reach is often also equated with brand awareness which is important when the focus is shifted to earning more leads, subscribers, or conversions as the more recognizable and respected a brand is, the easier it is to generate those things. Insight pages on social platforms will showcase reach, which should improve over time.
Engagement – This is simply the number of people that participate in your activities on social media sites. There are two different ways to look at engagement; shares and interaction. Some people will reply, comment, or like posts which represent interaction while shares are simply how often a post is re-tweeted, shared, and the like. Depending on business goals, it is important to understand which types of posts produce more of one action over another to allow more focus on what is important to the business between shares and interaction.
Click-Through-Rate – This metric is useful for those businesses that run ads on social media platforms. It represents the number of people clicking on an ad or content resulting in a website visit. CTR is based on the total number of clicks divided by impressions, then multiplied by 100. Again, this is a metric most platforms automatically calculate.
Social Media Referrals – This metric is the total number of visitors to the business website that come from the business social media platforms. This metric represents customers willing to leave social media platforms to land on a website which indicates a high level of interest in products or services. This can be tracked via Google Analytics under the acquisition tab.
Bounce Rate – This is a standard website analytic that can be found in Google Analytics and should be tracked in relation to social media. The bounce rate from social media should be compared to the bounce rate for search or digital ads which will allow a better understanding of the effectiveness of social strategy compared to other methods. A very high bounce rate would indicate and ineffective strategy because visitors leave immediately indicating they were not instantly getting the information they expected.
Amplification Rate – This number is a ratio of shares of a post to the number of total followers on that particular platform. It has been defined as the rate which followers share content on their own networks. Simply add the number of shares over a period and divide by the number of total followers then multiple by 100 for a rate percentage. The higher this percentage, the more followers are pushing content to new audiences for free as well as an indication that followers want to associate themselves with that brand, much like a brand ambassador.
Social Media Conversions – This will vary based on what a business wishes to consider a conversion, such as subscribing to a newsletter or a direct website purchase. This directly relates to ROI and cost-per-conversion (CPC). Different platforms have methods to tract various metrics depending on what the definition of a conversion ends up being.
Customer Satisfaction Score – This is also known as CSAT, and is a metric focused on measuring the satisfaction level people have with products or services. It really boils down to the simple question of: What is your overall satisfaction with X? The answers can be a 1-5 or 1-10 scale along with terms such as Poor, Fair, Good, Great, Incredible. CSAT surveys can be implemented on social media platforms and then simply add up all scores divided by the number of responses then multiply by 10.
Lounge Lizard Digital Marketing Agency is an award-winning, high-end design boutique specializing in website and mobile app development, UX/UI, branding, and marketing. Lounge Lizard excels in creating the ultimate brand strategy, fully loaded with expertly crafted visuals that work together to increase sales and effectively communicate a client's unique personality.
Media Contact: Ken Braun, Lounge Lizard, 631-581-1000, ken.braun(at)loungelizard.com