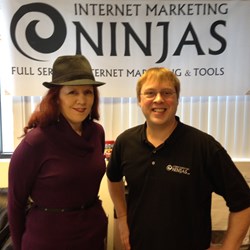 ...I am thrilled to become a ninja, contributing my skills, and becoming a part of such a dynamic, results-oriented, established yet cutting-edge team. -Deborah Anderson
Clifton Park, New York (PRWEB) January 16, 2014
Internet Marketing Ninjas (IMN), a leading full-service internet marketing company out of Clifton Park, New York, is excited to announce the recent hiring of Deborah Anderson, as senior project manager. She will be performing a number of roles and drawing upon her 20 years of experience to help the company continue to grow.
Anderson has had an illustrious career in a variety of roles, though she is best known in marketing circles as the host of Marketing Momentum, a weekly web series on Social Web Café TV and I Heart Radio. Further, she helps professionals take their Google Hangouts to the next level with her site, HangoutQueen.com. Finally, she has also been the social media strategist and community building specialist for the popular guest blogging platform, MyBlogGuest.com (MBG), and currently hosts the site's monthly Google Hangouts, which serve as opportunities for the MBG community to connect, ask questions, and learn about guest blogging techniques.
Internet Marketing Ninjas seemed to be a perfect fit for Anderson. Of joining the Ninjas, she said, "I love fast-paced environments and teams of people that are focused on getting the job done and doing it well. I could tell, from a distance, that Internet Marketing Ninjas was just that type of environment. What I wasn't aware of was just how quality-focused IMN is, as if redefining the words 'quality' and 'customer-service.' I am thrilled to become a ninja, contributing my skills, and becoming a part of such a dynamic, results-oriented, established yet cutting-edge team." On the subject of the cross-country move, she said, "Hey, I'm an LA girl and always will be. Only a company as stellar as Internet Marketing Ninjas could convince this sun-loving girl to take up residence in a region that has snow, and replaces bikinis with wool scarves."
Jim Boykin, founder and CEO of Internet Marketing Ninjas, has been hard at work building a team of all-star talent to improve and expand upon what IMN is able to offer. In the past 18 months, Kris Jones has joined the team as Chairman, Chris Boggs was hired as Chief Marketing Officer, and other notable industry names such as Ann Smarty, Kim Krause Berg, Frank Bauer, Bill Atchison, Joe Hall, Gab Goldenberg, Thom Craver, and Tamar Weinberg, have also joined the company. Furthermore, Boykin has expanded his reach within the internet marketing industry by acquiring Cre8asiteForums.com WebmasterWorld.com, the DeveloperShed Network.
"When we have a need," said Boykin, "I don't simply look for someone to meet that need, but instead I look for someone who has a reputation for exceeding expectations and redefining roles. That's why I was so keen on having Deborah join the IMN family. I know that, given her wide breadth of experience, she will be able to help us continue to grow into our role as one of the most trusted names in internet marketing.
About Internet Marketing Ninjas
Internet Marketing Ninjas has a worldwide reputation for excellence in the industry, a reputation built on that of its founder and CEO, Jim Boykin. In business since 1999, IMN is a full-service internet marketing company, offering a variety of services including social media management, content production and marketing, community management, web design services, and more. As a trusted name in the industry, IMN also gives back to the internet marketing community by offering a variety of free SEO tools on its various properties.